Black Gate 9 — Fall 2005
Black Gate 9 — Fall 2005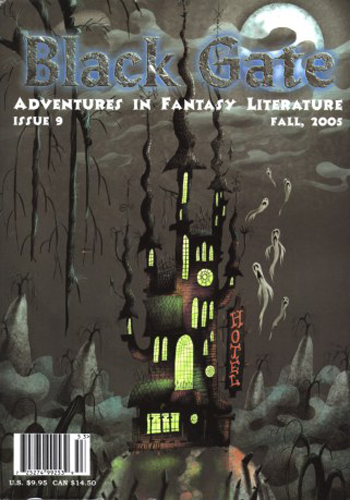 208 pages, $9.95
On Sale December 18, 2005
Edited by John O'Neill
Published by New Epoch Press
Cover Art by Dan Krall
Interior Art by Mark Evans, Matt Hughes, Chuck Lukacs, Bernie Mireault, and Denis Rodier
Buy this as a sample issue — only $9.95 postpaid!
---
FICTION
"The Whited Child"
by Michael Canfield
Bad Pete spoke for the Mountains, and did their will. Until the wolves came….
"Payment Deferred"
by James Enge
Morlock the Maker returns to confront a crafter of golems… and a challenge he may not survive.
"The Thrall"
by Michael Shultz
In a world enslaved to the Thrall, a thrall-less girl might look like salvation… unless she happened to be your daughter.
"Seijin's Enlightenment"
by William John Watkins
Seijin was a samurai of almost peerless skill and reputation. But his greatest test still awaited him.
"Pets"
by Adam J. Thaxton
All she wanted was a pet. That, and not to be devoured by an Avatar monster.
"The Hand That Binds"
by Michael Livingston
The creature came in the night and killed everything it found. What hope could this young warrior offer?
"It's a Wonderful Con"
by Larry Tritten
Never trick an old trickster… no matter how soft his reputation might be.
"The Longday Hunt"
by Sean Oberle
Legend said she was a minor goddess — a petty, insane killer. But if she awoke, it would mean death on a scale Jace had never before seen.
"The Final Flight of Major Havoc"
by Carl Reed
Major Havoc was having a bad day — and the giant dog tracking him was the least of his worries.
"A Touch of Crystal"
by Martin Owton & Gaie Sebold
It was a thrill to finally meet real elves. Except for all the paperwork.
Fantasy Classic: "The Fifth-Dimension Catapult"
by Murray Leinster
Professor Dunham and his daughter were marooned in the Fifth Dimension… a bizarre landscape of unearthly flora and fauna — and the Ragged Men, whose cruelty knew no bounds. A classic from the great era of pulp fantasy!
---
FEATURES
"Retro-Hugos That Will Never Be"
by Rich Horton
---
DEPARTMENTS
Editorial: Life After 40 (Such As It Is)
by John O'Neill
Letters
From Our Readers
Back Issues
A List of rare (but miraculously still available) back issues of Black Gate.
Next Issue
What wonders await you in Issue #10? We give you the lowdown.
---
REVIEW FEATURES
Book Reviews
Tumithak of the Corridors, by Charles R. Tanner
In Lands That Never Were: Tales of Swords and Sorcery, Edited by Gordon Van Gelder
The Historian, by Elizabeth Kostova
Four and Twenty Blackbirds, by Cherie Priest
Dragon Rider, by Cornelia Funke
The Dark Hills Divide, Land of Elyon: Book 1, by Patrick Carman, narrated by Aasne Vigesaa (audiobook)
The Black Angel, by John Connolly
The Death Collectors, by John Kerley
by Jennifer Brozek, Thomas F. Cunningham, Lisa DuMond, Sue Granquist, Todd McAulty and Todd Ruthman
---
GAMING
Fantasy Game Reviews
Northern Crown: New World Adventures, Atlas Games
Eberron: Explorer's Handbook, Wizards of the Coast
His Last Command: A Gaunt's Ghosts Novel, Dan Abnett, Black Library
The Secrets of Zir'an Core Gamebook, Paragon Games
Dungeons and Dragons: Frostburn, Wizards of the Coast
Dungeons and Dragons: Sandstorm, Wizards of the Coast
by Don Bassingthwaite and Todd McAulty
---
COMICS
Knights of the Dinner Table: The Java Joint
by Jolly Blackburn, John O'Neill, and Steve Johansson