In 1974 Lester Del Rey hit on the idea for a series of collections showcasing the best early SF writers in the field — especially those who had a publishing contract with his Del Rey imprint, naturally enough. The Classic Science Fiction line grew to roughly two dozen volumes, creating an essential library of early science fiction. It became one of the seminal SF series of my childhood, introducing me to such writers as C.L. Moore, Leigh Brackett, Edmond Hamilton, Fritz Leiber, Henry Kuttner, John W. Campbell, Philip K. Dick, Fredric Brown, Murray Leinster, Robert Bloch, Jack Williamson, and many others. James McGlothlin has been reviewing them at Black Gate. So far he's covered The Best of Stanley Weinbaum and The Best of Frederik Pohl, two of the finest books in the set.
I always thought I had a complete collection, but just a few months ago I discovered there was a late entry — The Best of John Brunner, published fourteen years after the first volume in the series. How the heck did that manage to elude me for nearly 30 years? I scrambed to find one, and soon enough located a virtually new copy on eBay for just $4 — just five cents more than the 1988 cover price. It arrived a few weeks ago.
It has been a genuine treat. Brunner is one of science fiction's finest 20th Century practitioners, and while I'm well familiar with his novels, I've discovered that I'm much less knowledgeable regarding his short fiction. In fact, while I haven't finished reading it, I'm pretty sure I've never read any of these stories before.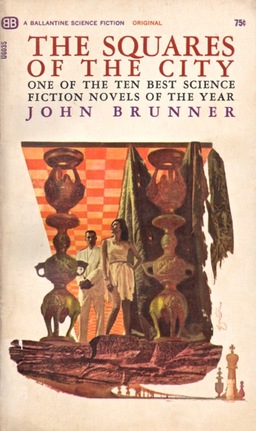 The Best of John Brunner has an introduction by Joe Haldeman, who writes:
In the early sixties, Brunner was ready to start writing somethng more challenging. As he says in a 1972 interview, "the depressing shallowness of much SF became appparent to me. The time of sheer wonderment at the infinite possibilities of applied technology was, in my view, over; the substantial theme that remained, and was primarily the perogative of SF… consisted in the examination of the impact of technological change on the human personality."

The first complex, challenging science fiction book Brunner wrote was The Squares of the City, a novel whose plot derived from the moves of a famous chess match. But five years passed before an American house picked it up (for a 'derisory' advance payment, according to Brunner), and despite a considerable success in America, the novel went unpublished in Britain until almost a decade after it had been completed.

In reaction to this equivocal situation, Brunner said (again, writing in 1972), "I have found it necessary to regard my writing as being divided into two categories: 'ambitious' and 'fun-type.'
Haldeman descibes the book that follows as "a smorgasboard, about equally divided between heavy fare and light."
Here's the complete table of contents.
Introduction: The Brunner Mosaic, by Joe Haldeman
"The Totally Rich" (Worlds of Tomorrow, June 1963)
"The Last Lonely Man" (New Worlds SF, #142 May-June 1964)
"Galactic Consumer Report No. 1: Inexpensive Time Machines" (Galaxy Magazine, December 1965)
"Fair" (New Worlds Science Fiction #45, March 1956)
"Such Stuff" (The Magazine of Fantasy and Science Fiction, June 1962)
"Galactic Consumer Report No. 2: Automatic Twin-Tube Wishing Machines" (Galaxy Magazine, June 1966)
"Tracking with Close-ups (21) and (23) (excerpt from Stand on Zanzibar)
"X-Hero" (Omni, March 1980)
"No Future in It" (Science Fantasy, September 1955)
"Galactic Consumer Report No. 3: A Survey of the Membership" (Galaxy Magazine, December 1967)
"What Friends Are For" (Fellowship of the Stars, 1974)
"The Taste of the Dish and the Savor of the Day" (The Magazine of Fantasy and Science Fiction, August 1977)
"Galactic Consumer Report No. 4: Thing-of-the-Month Clubs" (Galaxy, January 1969)
"The Man Who Saw the Thousand-Year Reich" (The Magazine of Fantasy & Science Fiction, November 1981)
"An Elixir for the Emperor" (Fantastic Stories of Imagination, November 1964)
"The Suicide of Man" (Isaac Asimov's Science Fiction Magazine, July-August 1978)
"The Vitanuls" (The Magazine of Fantasy and Science Fiction, July 1967)
Our recent coverage of John Brunner includes:
Space Stations With Secret Passages, and Snow White in Space: Rich Horton on Sanctuary in the Sky by John Brunner/The Secret Martians by John Sharkey
Wandl the Invader/I Speak For Earth by Ray Cummings and Keith Woodcott (John Brunner)
A Tale of Two Covers: Stand on Zanzibar
Aztec Empires, Amazons, and the Spanish Armada: Rich Horton on John Brunner's Times Without Number
Martian Pirates, Brain Creatures, and Hive Minds: Rich Horton on Ray Cummings and John Brunner
Vintage Treasures: Vulcan's Hammer by Philip K. Dick/ The Skynappers by John Brunner
Robert Silverberg on the Tragic Death of John Brunner
The Great Steamboat Race
The Best of John Brunner was published by Del Rey in November 1988. It is 288 pages, priced at $3.95 in paperback. The cover is by Barclay Shaw. It has never been reprinted, and there is no digital edition.
See all of our recent Vintage Treasures here.