Vintage Treasures: The Great Steamboat Race by John Brunner
Vintage Treasures: The Great Steamboat Race by John Brunner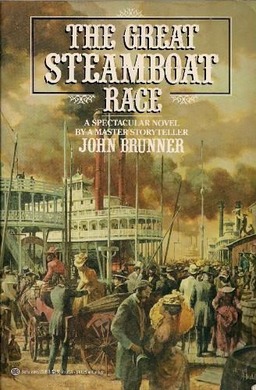 John Brunner is one of my favorite writers. He wrote one of the finest SF novels I've ever read, the Hugo Award-winning Stand on Zannibar, and over a career that spanned 40+ years he produced nearly 60 SF novels  and 15 short story collections.
I have virtually all of his SF output, but a few months ago I stumbled on a Brunner novel unknown to me: The Great Steamboat Race, published in a premium trade paperback edition by Ballantine in 1983. Based upon the true story of an epic race between the steamboats Natchez and Robert E. Lee down the hazardous Mississippi River on the July 4th 1870 weekend, The Great Steamboat Race is a massive historical saga and a significant departure for Brunner. It's the only book like it in his catalog and Ballantine obviously sunk some money into the production — it's packaged very much like a historical bestseller.
A decade before it appeared, a virtually unknown sword & sorcery writer named John Jakes escaped midlist obscurity by turning from SF and Fantasy to historical fiction with his novel The Bastard. That single novel made Jakes one of the most popular writers in America and the series that grew from it, the Kent Family Chronicles, eventually sold 55 million copies (to put that in perspective, that's roughly twice George R.R. Martin's sales for all the volumes of A Song of Ice and Fire.) Jakes's success inspired many of his fellow SF writers to experiment with straight historical fiction, including Robert Silverberg (with Lord of Darkness, 1983) and a handful of others.
Although The Great Steamboat Race was well-reviewed, it was not a success. It was never reprinted in mass market paperback (although copies of the trade paperback edition are easy to find, even today) and John Brunner returned to writing SF and fantasy. He never wrote another historical novel.
The Great Steamboat Race was published by Ballantine Books in February, 1983. It is 568 pages, originally priced at $7.95. New copies are available on eBay for roughly the same price today.