Martian Pirates, Brain Creatures, and Hive Minds: Rich Horton on Ray Cummings and John Brunner
Martian Pirates, Brain Creatures, and Hive Minds: Rich Horton on Ray Cummings and John Brunner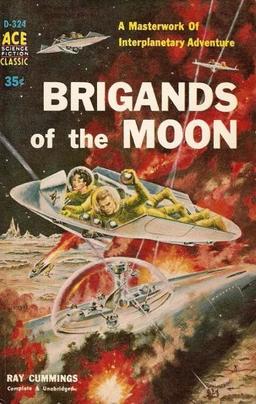 Rich Horton's personal blog, Strange at Ecbatan, is a great place to hang out if (like us) you love vintage paperbacks and magazines. In addition to his reviews here at Black Gate (not to mention his editing duties for The Year's Best Science Fiction & Fantasy, the 2015 Volume of which just arrived last month), Rich also reviews forgotten bestsellers, neglected classics, and obscure books by writers who later became highly regarded. This week he takes a look at an Ace Double from 1961.
This week's Old Bestseller post is on a book that was by no means a bestseller — it's another Ace Double review, this time a new one (for me) — the 1961 pairing of a rather dreadful 1932 pulp serial by Ray Cummings (Wandl the Invader) with one of John Brunner's better early short novels (I Speak For Earth), written as by "Keith Woodcott."

Wandl the Invader was serialized in Astounding in 1932. It was a sequel to Brigands of the Moon, which began its serialization in the third issue of Astounding, in 1930. It is set in a future in which space travel is well-established within the Solar System, and essentially human civilizations have been discovered on both Venus and Mars. (Interbreeding is possible, for instance.) A small planet called Wandl has appeared in the Solar System, and Gregg Haljan (hero of Brigands of the Moon) is recruited to captain a spaceship to resist the evil intentions of the planet's inhabitants.
The opening sections have some interesting ideas an images, such as a roofed New York. Haljan and his buddy Snap, along with their girlfriends, Anita and the Venusian Venza, first investigate the appearance of a Martian pirate and his sister, Molo and Meka. It turns out the Martians are in league with the invaders from Wandl, who turn out to comprise controlling all-brain creatures… You can see that Cummings had talent… [but] I'd say the stories really deserve to be forgotten, by and large.

I Speak for Earth revolves in one way around a very familiar idea: the alien Federation of Worlds has discovered Earth. They are quite perturbed by humanity's history of violence, but improvements are being made. Still, before they allow the first human starship to be completed, they want to evaluate humanity's worthiness to join the Federation. To that end, they have asked us to choose one representative to travel to a Federation world and spend a month there — after which that person's behavior will serve as a benchmark for the decision on whether humans can travel to the stars…

The neat wiggle Brunner introduces is this: humanity's leadership (the UN) decides that it is ridiculous to send just one human as a representative. So they choose six people, very accomplished people from a variety of cultures, who represent a variety of high achievement, and use a newly developed technology to allow one man's mind to host five additional minds… The bulk of the story covers the time the six people spend together, learning about each other, then (by surprise) being integrated into one mind.
See Rich's complete review here.
We've covered the following Ace Doubles so far:
The Sioux Spaceman / And Then the Town Took Off by Andre Norton and Richard Wilson
Secret of the Lost Race/ One Against Herculum by Andre Norton and Jerry Sohl
Clockwork's Pirates/Ghost Breaker by Ron Goulart
ATTA/ The Brain-Stealers by Francis Rufus Bellamy and Murray Leinster
The Ship from Atlantis/ The Stolen Sun by H. Warner Munn and Emil Petaja
Vulcan's Hammer / The Skynappers by Philip K. Dick and John Brunner
The Ship That Sailed the Time Stream by G.C. Edmondson
Bow Down to Nul / The Dark Destroyers by Brian W. Aldiss and Manly Wade Wellman
Gateway to Elsewhere / The Weapon Shops of Isher by Murray Leinster and A. E. van Vogt
The Cosmic Puppets / Sargasso of Space by Philip K. Dick and Andre Norton
The Beast Master / Star Hunter by Andre Norton
Big Planet by Jack Vance
City Under the Sea by Kenneth Bulmer
The Forgotten Planet (Planets of Adventure) by Murray Leinster
Six Worlds Yonder / The Space Willies by Eric Frank Russell
Sentinels of Space / The Ultimate Invader by Eric Frank Russell and Donald Wollheim
Ring Around the Sun/ Cosmic Manhunt by Clifford D. Simak and L. Sprague de Camp
The Trouble With Tycho/ Bring Back Yesterday by Clifford D. Simak and A. Bertram Chandler
The Last Planet (Star Rangers) by Andre Norton
A Touch of Infinity/ The Man With Nine Lives by Harlan Ellison
Kirkus Looks at Donald A. Wollheim and the Ace Double
Tales of Outer Space/ Adventures in the Far Future edited by Donald A. Wollheim
The Pirates of Zan by Murray Leinster
See all of our recent Vintage Treasures here.