Vintage Treasures: Secret of the Lost Race by Andre Norton / One Against Herculum by Jerry Sohl
Vintage Treasures: Secret of the Lost Race by Andre Norton / One Against Herculum by Jerry Sohl
Time to get back to some Ace Doubles.
I've covered 20 in the series so far, which, as die-hard collectors will know, is only scratching the surface of this marvelous series. As long as we're returning to our survey after a lengthy hiatus, we might as well return in style. And that means Andre Norton.
So today we'll look at Secret of the Lost Race, one of her classic novels of space adventure, paired with an early novel by future Star Trek writer Jerry Sohl, One Against Herculum. It was published as Ace Double #D-381 in 1959. Both short novels were original publications.
[Click on the images for bigger versions.]
As usual for the more popular Ace Doubles, Secret of the Lost Race was eventually re-issued as a standalone paperback after the Double format went out of style. The first reprint was in July 1969, a decade after its original appearance. This one re-used the Ed Valigursky cover from the 1959 edition (below left). It was also padded out with a fine essay by Lin Carter, "Andre Norton: A Profile," originally written for the 1966 Ace Double edition of The Sioux Spaceman.
The next edition was just three years later in 1972, with a brand new cover by an unknown artist. Two years later, Ace standardized the color, font, and design of Andre Norton's paperbacks, re-issuing Secret of the Lost Race with a new look, and a slightly darker cover (above middle and right).
In July 1978, Ace freshened up the cover again, with a new design and a frankly rather ugly cover by Eileen Astrahan (below left).
The 1981 edition, with a cover by Wayne Barlowe (middle) was much superior. Is is just me, or does this edition have a planet Hoth, Empire Strikes Back feel to it? (Empire was released in 1980).
1981 was the last time Secret of the Lost Race saw print as a standalone novel. Andre Norton had an enviable three decades in which her most popular novels were continuously in print, with new editions every 3-5 years, but that came to an end in the 1980s. The last appearance of the novel in a print edition was as part of Baen's omnibus volume Secret of the Stars (which also includes Norton's unrelated 1961 novel Star Hunter), released as a trade paperback and ebook in May 2014 (above right, cover by Adam Burn.)
All told, the novel had seven English paperback editions between 1959 and 2014, from two publishers and with five cover artists. Here's the deets:
| | | | | |
| --- | --- | --- | --- | --- |
| Publication Date | Publisher | Price | Page Count | Cover Artist |
| 1959 | Ace Books | $0.35 | 124 | Ed Valigursky |
| July 1969 | Ace Books | $0.60 | 144 | Ed Valigursky |
| 1972 | Ace Books | $0.75 | 125 |  ?? |
| 1974 | Ace Books | $1.25 | 125 |  ?? |
| July 1978 | Ace Books | $1.75 | [7] + 179 | Eileen Astrahan |
| Dec 1981 | Ace Books | $1.95 | [8] + 179 | Wayne D. Barlowe |
| May 2014 | Baen | $14.00 | 234 | Adam Burn |
Secret of the Lost Race has been called "a fascinating little oddity" by some critics, partly because of the matriarchy at the heart of events, and also its surprisingly bleak outlook. But rather than give you a straight synopsis, I thought it might be fun to compare the back cover text for the various editions, starting with the 1959 Ace Double. Here's the text from the inside front cover:
Was He Spaceman — or Star-Monster?

Joktar didn't know who he was nor where he'd come from. He had led a gamin orphaned existence in the spacemen's helltown of interstellar New York all his remembered life — and he'd grown adept at dodging the law, outwitting the criminal. But he knew no special reason why all the forces of the civilized galaxy should suddenly concentrate on him.

But that was what seemed to be happening. Suddenly the top rankers of galactic service were out to get him — and him alone. Nab him — bring back his carcass!

Joktar ran for his life. He ran right out of the Solar System, straight across the galaxy and holed up in the aptly named Constellation of the Wolf. There he turned, back against the freezing hell that was the Wolf world of Fenris, and waited for his hunters.

Until he realized that there was Something Else — something even more feared — out there among the myriad stars that was also looking for him… with a chance of life instead of death as its purpose.
And here's the back covers of the paperback editions for the next 22 years: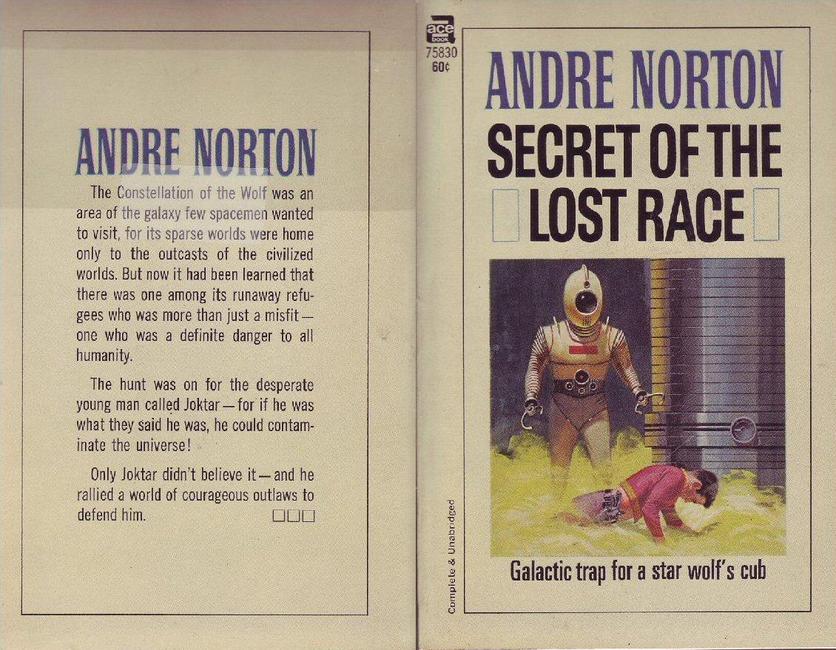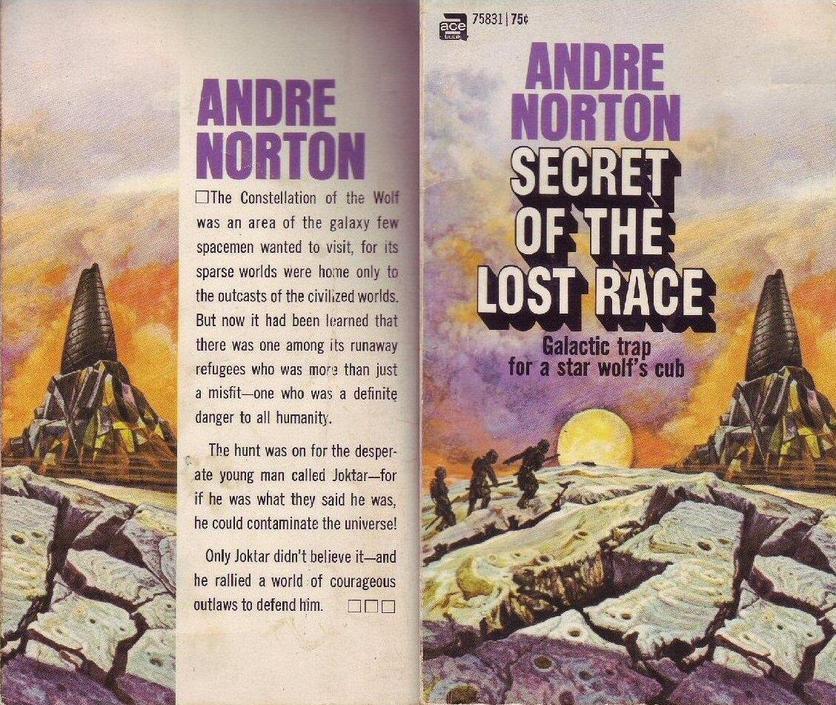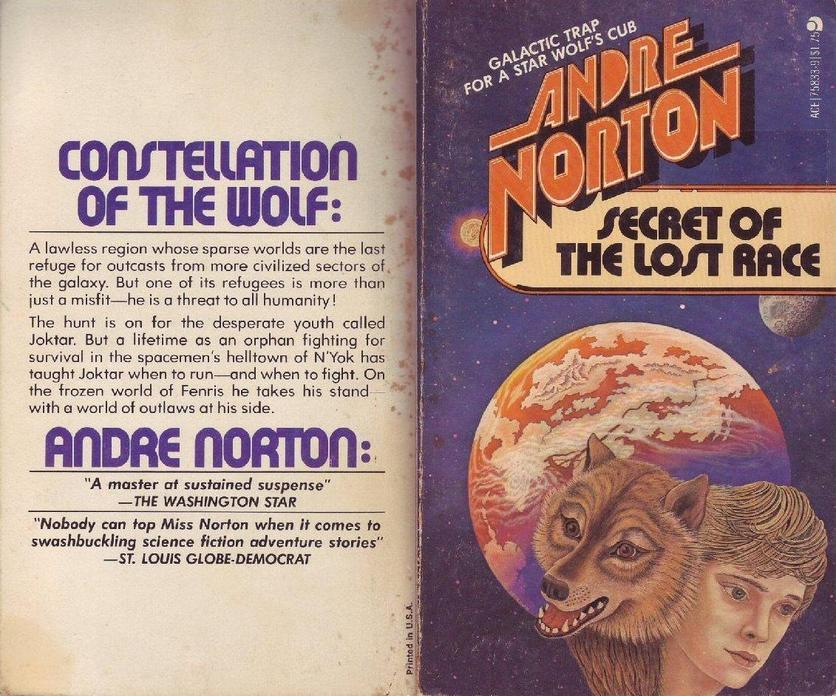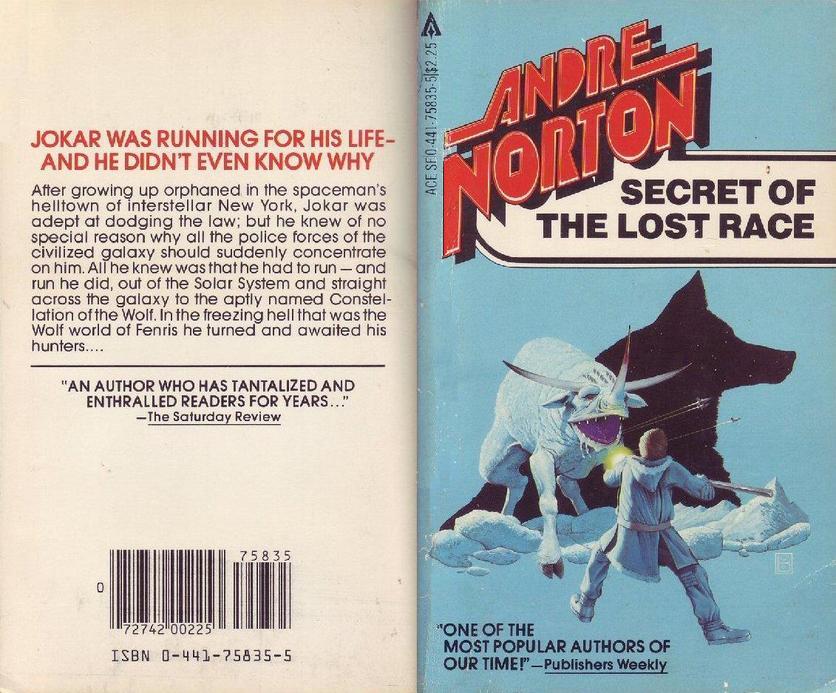 Andre Norton's Secret of the Lost Race and Jerry Sohl's One Against Herculum make good comparative cases. While the former is currently still in print (albeit in an omnibus edition), and had multiple paperback editions over the decades, the latter is far more typical. That is to say, its 1959 edition was its last, and it was never reprinted. If you want to read it, the 1959 Ace Double is your only option.
Here's the synopsis from the inside cover:
Legal Assassin of the Starways

Corruption was the rule of order on the doomed planet colony of Herculum. Earthman Alan Demuth, for instance, couldn't get the job he had rightfully qualified for without paying a kickback to the man he hated, Jack Bohannen. Alan thought he could simply report Jack's graft, until he learned none would listen.

There was one desperate recourse. Under provision of the law, Alan could ask for a crime license. His crime would be homicide, and the victim Jack Bohannen. The law gave him twenty-four hours to make good his murder.

Failure would mean Alan's death. Success would mean the clean-up of graft and dishonesty. But Alan never realized that in a graft-ridden society, even a license to kill is liable to prove a backfiring fraud!
Jerry Sohl is the author of 14 science fiction novels, including Costigan's Needle (1953) and The Time Dissolver (1957). Today he is chiefly remembered as the author of one of the better episodes of Star Trek, "The Corbomite Maneuver," and for a harrowing road trip he took with author Richard Matheson, when they were dangerously tailgated by a large truck (Matheson later fictionized the tale as "The Duel," which was eventually made into a TV movie by the young Steven Spielberg.)
Secret of the Lost Race by Andre Norton / One Against Herculum by Jerry Sohl was published by Ace Books as Ace Double D-381 in 1959. It is 124/132 pages, priced at $0.35. The covers are by Ed Valigursky and Ed Emshwiller.
We've covered the following Ace Doubles so far:
Clockwork's Pirates/Ghost Breaker by Ron Goulart
ATTA/ The Brain-Stealers by Francis Rufus Bellamy and Murray Leinster
The Ship from Atlantis/ The Stolen Sun by H. Warner Munn and Emil Petaja
Vulcan's Hammer / The Skynappers by Philip K. Dick and John Brunner
The Ship That Sailed the Time Stream by G.C. Edmondson
Bow Down to Nul / The Dark Destroyers by Brian W. Aldiss and Manly Wade Wellman
Gateway to Elsewhere / The Weapon Shops of Isher by Murray Leinster and A. E. van Vogt
The Cosmic Puppets / Sargasso of Space by Philip K. Dick and Andre Norton
The Beast Master / Star Hunter by Andre Norton
Big Planet by Jack Vance
City Under the Sea by Kenneth Bulmer
The Forgotten Planet (Planets of Adventure) by Murray Leinster
Six Worlds Yonder / The Space Willies by Eric Frank Russell
Sentinels of Space / The Ultimate Invader by Eric Frank Russell and Donald Wollheim
Ring Around the Sun/ Cosmic Manhunt by Clifford D. Simak and L. Sprague de Camp
The Trouble With Tycho/ Bring Back Yesterday by Clifford D. Simak and A. Bertram Chandler
The Last Planet (Star Rangers) by Andre Norton
A Touch of Infinity/ The Man With Nine Lives by Harlan Ellison
Kirkus Looks at Donald A. Wollheim and the Ace Double
Tales of Outer Space/ Adventures in the Far Future edited by Donald A. Wollheim
The Pirates of Zan by Murray Leinster
See all of our recent Vintage Treasures here.