Vintage Treasures: The Plantagenet Novels by Allen Andrews
Vintage Treasures: The Plantagenet Novels by Allen Andrews
Allen Andrews is the author of a number of fine British histories, including Kings and Queens of England and Scotland, The Whiskey Barons, The Air Marshals, and Wonders of Victorian Engineering. But for genre fans, he's chiefly remembered for two light fantasy novels he produced in the 1980s: The Pig Plantagenet (1980) and Castle Crespin (1982), both reprinted in paperback by Tor with a pair of fine covers by Victoria Poyser.
The Pig Plantagenet is the tale of Plantagenet, a pig on a 13th century farm in Poitou, France, who schemes to ruin a great hunt that will slaughter all the wild pigs and other creatures surrounding the farm. The sequel focuses more on Fulgent the Fox, who has "fairly traditional designs on a local farmer's poultry," and who is also part of the local animal aristocracy. One thing leads to another, and soon two very different societies are locked in deadly conflict.
Both books drew strong comparisons to Watership Down and Animal Farm, which was doubtless inevitable with any fantasy featuring farm animals, but more astute reviewers saw more in these books, especially the rather clever way in which the author depicts a class-based animal society with surprising complexity.
Here's a snapshot of the back covers (click for a readable version).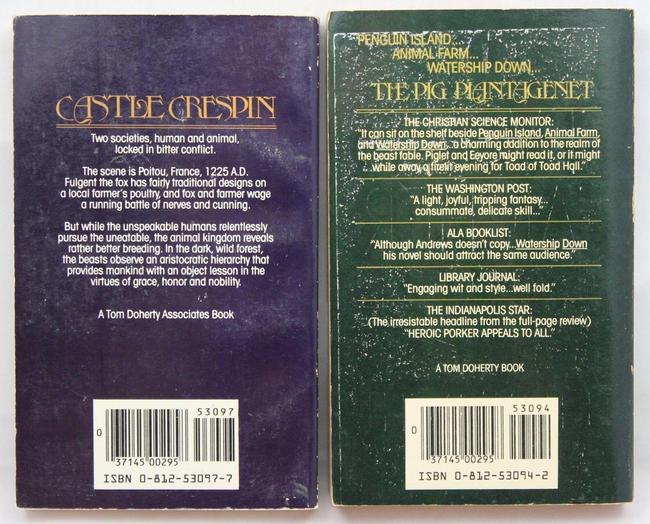 Here's the book description from the inside front cover for the first book:
The Pig Plantagenet is set in the world of 13th century France in a forest abutting the land of a wealthy farmer whose Lord has commanded him to organize a great hunt, mainly to exterminate the fiercer animals, but in passing to kill for a great feast the lesser beasts as well.

But Lord and farmer both have reckoned without a spy in their midst, one pig named Plantagenet.

For Plantagenet, you see, has been running with the beasts of the field, and has come to prefer their beastliness to the beastliness of men.
The reviewer owlcraft at LibraryThing summarized Castle Crespin nicely:
A sequel to The Pig Plantagenet, this tale, set in 13th century France, is — of course — also an animal fable, though again with plenty of human interaction. It, too, is light in that delicate way that generates charm rather than fragility, and it is leavened with a drool, down-to-earth attitude. It continues its predecessor's pleasant mix of the humorous and the profound, never either frothy or turgid. Just more awfully good fun…
The Pig Plantagenet was published by Tor Books in March 1984. It is 286 pages, priced at $2.95 in paperback. Castle Crespin was published by Tor in August 1984; it is 238 pages, priced at $2.95 in paperback. Both covers are by Victoria Poyser. Neither has been reprinted, and they have now been out of print for over 30 years. There are no digital editions.
See all of our recent Vintage Treasures here.