Kim Thompson, September 25, 1956 – June 19, 2013
Kim Thompson, September 25, 1956 – June 19, 2013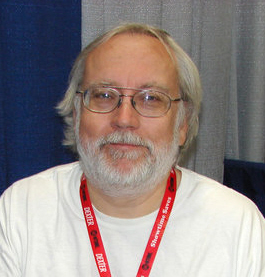 Kim Thompson, one of the most important figures in independent American comics, died today at the age of 56.
I first encountered Thompson during his days as editor of Amazing Heroes in the early 1980s. Amazing Heroes, which ran 204 issues from 1981 through 1992, was Fantagraphics' version of The Comics Journal for superheroes, a serious (or at least, semi-serious) critical fan journal that ran articles on overweight superheroes, how Bob Burden narrowly escaped flaming death in Chicago, every move Jack Kirby ever made — and even produced an annual swimsuit issue. The first time I can remember reading his words was his announcement, some time in the early 80s,  that Amazing Heroes would run a Top 100 Comics on the back page (which quickly collapsed due to the sheer effort involved).
Thompson began working for Fantagraphics in 1977, and became a co-owner with Gary Groth the next year. According to an article in The Comics Journal #254, Thompson saved the company from bankruptcy by investing his inheritance in 1978.
He edited many of Fantagraphics' most popular comics, including Linda Medley's superb Castle Waiting, Peter Bagge's Hate, Chris Ware's Acme Novelty Library, Stan Sakai's Usagi Yojimbo, and many others. He edited all 50 issues of funny-animal anthology Critters (1985-1990) and the alternative comics anthology Zero Zero (also 50 issues, 1995-2000).
Recently, Thompson returned to his early passion, translating and publishing the work of major European graphic novelists here in the US. Danish was his native language, altogether he worked in nine languages, translating the work of Lewis Trondheim and Jacques Tardi (French), Nicolas Mahler (German), Nikoline Werdelin (Danish); Joost Swarte (Dutch), Sergio Ponchione (Italian), Jason (Norwegian), Max (Spanish), Martin Kellerman (Swedish), and many others.
On March 6 of this year, Thompson announced he had been diagnosed with lung cancer, and was taking a leave of absence to pursue treatment. He died today at age 56; so far his obituary has appeared in the The Washington Post, the Los Angeles Times, Boing Boing, and a lengthy obit (with pictures) at The Comics Journal.
I never had the opportunity to meet Kim Thompson. If I had, I would have shaken his hand and thanked him for the countless hours I've enjoyed reading his articles and translations over the past 35 years. He spent a life dedicated to comics, and the field is immensely richer for it.