New Treasures: Castle Waiting, Volume Two
New Treasures: Castle Waiting, Volume Two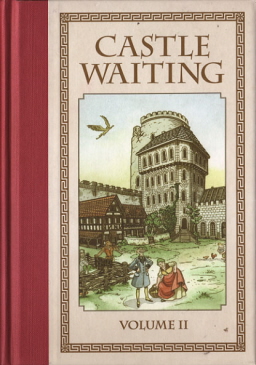 I first discovered the brilliant and touching Castle Waiting through Linda Medley's self-published comic in the late 90s. Eventually collected into the graphic novel Castle Waiting: The Curse of Brambly Hedge, it retold the fairy tale of Sleeping Beauty (sort of), as seen by an odd cast of mostly minor characters. It was well written and beautiful, feminine in perspective and mood, incredibly slow-paced, and wholly original. I loved it.
And then it pretty much vanished. Stray issues popped up now and again in my local comic shop over the years, but it looked to me like Castle Waiting would always be one of those undiscovered indie treasures that never broke into the mainstream.
Fanatagraphics turned all that around in 2006 with the massive Castle Waiting, a 472-page omnibus collecting virtually all the early issues in an attractive and affordable format. Picking up the story many years later, Medley follows the new inhabitants of Sleeping Beauty's ancient castle, most of them fairy tale characters with mysterious origins. Managed by the unflappable (literally) stork Rackham, the Castle is home to an eclectic mix of humans, outcasts, and friendly but mischievous sprites and other spirits.
This volume was successful enough that it allowed Medley to return to publishing Castle Waiting on a regular schedule in 2006. She published fifteen issues with Fantagraphics, and those issues were finally collected in 2010. Focusing chiefly on the pregnant Lady Jain, who has fled to the castle to escape an abusive husband, this second volume drew wide praise from NPR, Time Magazine, and many other sources, and Publishers Weekly ranked it one of the best comic books of 2006 in a critics' poll.
With its long-awaited second volume, Linda Medley's witty and sublimely drawn fantasy eases into a relaxed comedy of manners as Lady Jain settles into her new life in Castle Waiting.

Unexpected visitors result in the discovery and exploration of a secret passageway, not to mention an epic bowling tournament. A quest for ladies' underpants, the identity of Pindar's father, the education of Simon, Rackham and Chess arguing about the "manly arts," and an escape-prone goat are just a few of the elements in this delightful new volume.

The book also includes many flashbacks that deepen the stories behind the characters, including Jain's earliest romantic entanglements and conflicts with her bratty older sisters, the horrific past of the enigmatic Dr. Fell, and more.
Interestingly, except for a tiny copyright notice on page 377, the book is published totally anonymously, with no mention of Linda Medley anywhere on the cover, spine, or title pages.
Castle Waiting, Volume Two was published in December 2010 by Fantagraphics. It is 384 pages in hardcover for $29.99. There are no paperback or digital editions. With its slow pacing and glacial (almost non-existent) plot, it's not for everyone. But I recommend it highly.