Vintage Treasures: The Best of Hal Clement
Vintage Treasures: The Best of Hal Clement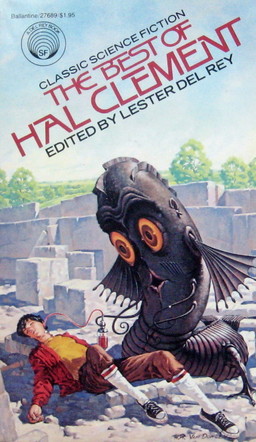 Hal Clement was perhaps the least well-known subject in the Classics of Science Ficiton series, even in 1979, when The Best of Hal Clement appeared. He's virtually forgotten today, 10 years after he died.
Ironically, he was probably the author I was personally most familiar with. Not because I read much of his fiction (not a lot was in print by the late 70s), but because of Maplecon.
Maplecon was the small local science fiction convention in Ottawa, Canada. I started attending in 1978, riding the bus downtown to the Chateau Laurier, a pretty daring solo outing at the age of fourteen. Hal Clement lived just a few hours away from Ottawa, in upstate New York, and he'd been a Guest of Honor at one of the earliest Maplecons; after that, he became a regular attendee. The convention staff referred to him warmly as "our good luck charm."
I remember Clement — whose real name was Harry Clement Stubbs — as a friendly, highly articulate, and good-humored man. He was in his early 50s when I first saw him, so of course I considered him infinitely old. He was also soft-spoken and not prone to talking up his own work, which probably explains why all those times I heard him speak didn't result in a lingering interest in his novels.
Clement wrote in a category that is nearly extinct today: true hard science fiction, in which The Problem — the scientific mystery or engineering puzzle at the heart of the tale — is the central character, and the flesh-and-blood characters that inhabit the story are there chiefly to solve The Problem. When Clement talked about writing, he mostly talked about the requirement to keep his stories as scientifically accurate as possible; he described the essential role of science fiction readers as "finding as many as possible of the author's statements or implications which conflict with the facts as science currently understands them."
Okay, that ain't how I view my role as a reader — and I read a fair amount of hard SF. But your mileage may vary.
I read one Hal Clement novel: Half-Life. Don't trouble yourself to find it; it's been out of print almost since it appeared and it's not one of his finer efforts. Here's what I said in my SF Site review back in 1999.
This is a hard science fiction novel, and an unapologetic one at that. Fairly advanced knowledge of bio-chemistry and engineering are required to completely follow much of the casual dialogue — at least, more advanced than I've got, anyway. [Editor's Note: This could be somewhat worrisome, since I know this reviewer has a Ph.D. in chemical engineering!] This is a book that had me bouncing out of my chair to look up unexplained references (things like thermotropic reactions, Cepheid stars, and Mollweide projections) a lot more often than I'm used to. There's even a critical plot point that requires the reader to know what nitrogen triiodide monoammate is (it's a type of explosive).
The editorial comment was inserted by SF Site editor Neil Walsh. ruining my little in-joke to my fellow chemical engineering grad students. Way to go, Neil.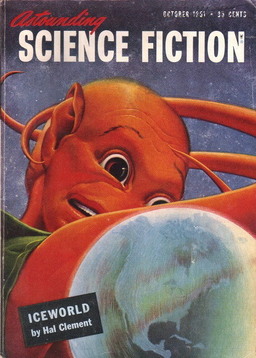 Clement's late 21st Century, as imagined in Half Life, was an SF fan's paradise, filled with characters who quoted Heinlein the way we quote Shakespeare, and who had an encyclopedic knowledge of Golden Age pulp SF heroes like Morey and Wade, John W. Campbell's intrepid scientist-adventurers from The Black Star Passes (1930) and Islands of Space (1931). It's no wonder Golden Age SF fans loved him.
Clement's real heyday was the 1950s, when he was a star in the pages of Astounding Science Fiction with lengthy serials like Iceworld (1951), in which a resourceful interplanetary narcotics agent must find a way to work with the inhabitants of a lethally cold planet to stop the spread of a dangerous new drug (tobacco). Of course, the incredibly cold planet is Earth, and most of the novel is told from the perspective of the alien agent.
Clement followed Iceworld with Mission of Gravity (serialized in the April–July 1953 Astounding), perhaps his most popular novel, and many others, including Cycle of Fire (1957), Close to Critical (1958), Mission of Gravity sequel Star Light (1971), Ocean on Top (1973), Through the Eye of a Needle (1978), The Nitrogen Fix (1980), and Fossil (1993). His final novel was Noise (2003).
Clement's first short story, "Proof," was published in the June 1942 issue of Astounding Science-Fiction, edited by John W. Campbell, Jr. Dozens more followed, exclusively in Astounding for the first decade of his career, until he sold "Halo" to H.L. Gold at Galaxy in 1952. He serialized his first novel, Needle, in the pages of Astounding in 1949.
Clement didn't win a lot of awards for his work, but that didn't mean he wasn't appreciated. In 1998, he was inducted into the Science Fiction and Fantasy Hall of Fame. The Science Fiction and Fantasy Writers of America awarded him the Grand Master Award at the Nebula ceremonies in 1999.
His 1945 short story, "Uncommon Sense," received a Retro Hugo, awarded 50 years after it was published, at the 1996 World Science Fiction Convention.
The Best of Hal Clement collected ten short stories published between 1942 and 1976, including "Uncommon Sense." His early Astounding work is well represented (six stories), but there's also later work from Worlds of If, Stellar, and other sources.
In the marketing copy on the back of the book Del Rey played up the hard SF angle, saying
The supreme practitioner of "hard" science fiction, Hal Clement combines ingenious problem-solving with suspenseful drama and action.
Here's a scan of the back cover text (click for a bigger version), with the complete blurb and Del Rey's trademarked short story teasers: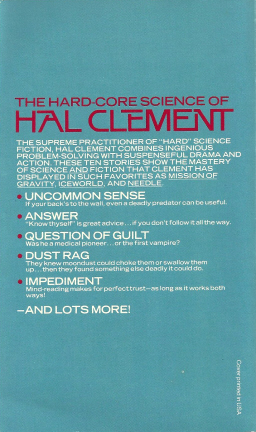 And here's the complete contents:
TABLE OF CONTENTS
Hal Clement: Rationalist by Lester del Rey
"Impediment" (Astounding Science Fiction, Aug 1942)
"Technical Error" (Astounding Science Fiction, Jan 1944)
"Uncommon Sense" (Astounding Science Fiction, Sept 1945)
"Assumption Unjustified" (Astounding Science Fiction, Oct 1946)
"Answer" (Astounding Science Fiction, April 1947)
"Dust Rag" (Astounding Science Fiction, Sept 1956)
"Bulge" (If, Sept 1968)
"Mistaken for Granted" (Worlds of If, Jan-Feb 1974)
"A Question of Guilt" (The Year's Best Horror Stories: Series IV, Nov 1976)
"Stuck With It" (Stellar #2, Feb 1976)
"Author's Afterword," by Hal Clement (1979)
The Best of Hal Clement was published by Del Rey Books in June, 1979. It is 379 pages in paperback, originally priced at $1.95. It is out of print; there is no digital edition. The splendid cover — one of my favorites in the series — was by H.R. van Dongen.
The last volume in the Classic Library of Science Fiction we examined was The Best of Jack Williamson. So far we've covered (in order of publication):
The Best of Stanley G. Weinbaum
The Best of Fritz Leiber
The Best of Henry Kuttner
The Best of John W. Campbell
The Best of C M Kornbluth
The Best of Philip K. Dick
The Best of Fredric Brown
The Best of Edmond Hamilton
The Best of Murray Leinster
The Best of Robert Bloch
The Best of Jack Williamson
The Best of Hal Clement
The Best of James Blish
The Best of John Brunner
See all of our recent Vintage Treasures here.