A.C. Crispin, April 5, 1950 – September 6, 2013
A.C. Crispin, April 5, 1950 – September 6, 2013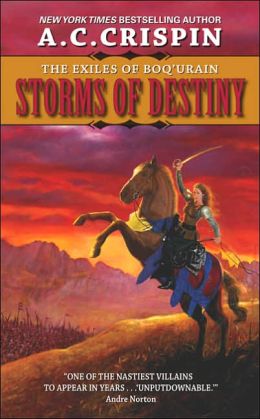 Ann C. Crispin, who wrote 23 novels under the name A.C. Crispin — including the Starbridge series and two collaborations with Andre Norton — died yesterday.
Crispin began her career in 1983 with the Star Trek novel, Yesterday's Son, in which Spock discovers that his brief dalliance with Zarabeth in an ancient ice cave in "All Our Yesterdays" resulted in a child. Accompanied by Kirk and McCoy, he uses the Guardian of Forever (from "The City on the Edge of Forever") to journey back in time to rescue his son. It was the first Star Trek novel other than a movie novelization to hit The New York Times Bestseller List, and she followed her success with a sequel, Time for Yesterday.
Crispin produced six Star Trek novels and quickly branched out to other media properties. She wrote a novelization of the TV series V in 1984 and Alien: Resurrection in 1997. All three novels in her popular Han Solo Trilogy (The Paradise Snare, The Hutt Gambit, and Rebel Dawn) appeared in 1997.
She wrote two novels in the Witch World series with Andre Norton: Gryphon's Eyrie (1984) and Songsmith (1992). The first novel in her Starbridge science fiction series appeared in 1989; it was followed by six more, the last five written in collaboration with a number of authors, including Kathleen O'Malley, T. Jackson King, and Ru Emerson.
Her last novel, Storms Of Destiny, the first installment in what was intended to be The Exiles of Boq'urain trilogy, was published in 2005.
In later years Cripsin was perhaps best known for her exemplary work with Victoria Strauss at Writers Beware, where for the last eight years she researched and exposed the scammers and con artists who preyed on aspiring writers. She posted this goodbye message to her readers on Facebook on September 3, when it became clear that her battle with cancer would soon come to an end:
I've been hesitant to make this post, but it's time. I want to thank you all for your good wishes and prayers. I fear my condition is deteriorating. I am doing the best I can to be positive but I probably don't have an awful lot of time left. I want you all to know that I am receiving excellent care and am surrounded by family and friends.

I wish all aspiring writers the will to finish and a good contract. Please continue to monitor Writer Beware and be careful who you sign with. Victoria Strauss and Richard White are there to help.
Ann Crispin was both a talented and hardworking writer and a tireless advocate for the rights of authors everywhere. She will be missed.