June 2017 Locus Now on Sale
June 2017 Locus Now on Sale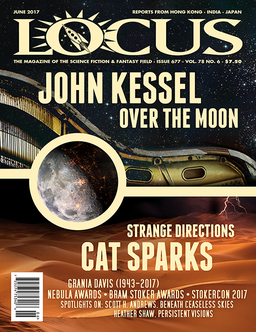 Locus is one of the few magazines I read cover to cover. It's packed full of news, interviews, conventions reports, color pics, enticing ads, and especially reviews of interest to me. For over 40 years it's provided the most reliable and comprehensive coverage of the SF field on the market.
The June issue is crammed full of good stuff, including:
A lengthy interview with John Kessel (The Moon and the Other)
Winners of the Nebula and Bram Stoker Awards
Complete US and British Forthcoming Books
Review columns by Gardner Dozois, Rich Horton, Gary K. Wolfe, Faren Miller, Russell Letson, John Langan, Adrienne Martini, Liz Bourke, and others
One of the most interesting features for me was a spotlight on Scott H. Andrews, founding editor of  the excellent Beneath Ceaseless Skies. Here's a snippet:
I started BCS in 2008 because the F/SF short fiction field had no dedicated home for literary or character-driven secondary-world fantasy. There were lots of great literary fantasy, slipstream, and magical realism, and decades of great literary SF, but rarely were magazines publishing character-centered or stylistically bold fantasy set in invented worlds.
I knew there were authors interested in that sort of fiction, slipstream writers who had grown up on epic fantasy or D&D, and I hoped there was a readership for it. Nine years and almost 500 stories later, I'm delighted that there is; that it's being written and read and recognized as worthy genre literature. I loved Locus Online's review that BCS has ''revive(d) adventure fantasy, secondary-world fantasy, as a respectable subgenre of short fiction, raising it from the midden of disdain into which it had been cast by most of the rest of the field.'' And ''midden'' is such a great historical fantasy word!
Read the complete thing here, and see the complete contents of the June issue here.
We last covered Locus with the November issue. Locus is edited by Liza Groen Trombi, and published monthly by Locus Publications. The issue is 82 pages, priced at $7.50. Subscriptions are $63 for 12 issues in the US. Subscribe online here. The magazine's website, run as a separate publication by Mark R. Kelly, is a superb online resource. It is here.
See our Late May Fantasy Magazine Rack here, and all of our recent Magazine coverage here.