Space Empires, Ruined Civilizations, and Lovable Aliens: The Best of Eric Frank Russell
Space Empires, Ruined Civilizations, and Lovable Aliens: The Best of Eric Frank Russell
Cover by H. R. Van Dongen
The Best of Eric Frank Russell (1978) was the eighteenth installment in Lester Del Rey's Classic Science Fiction Series. Alan Dean Foster (1946–) provides the introduction, his first and only introduction for the series. H. R. Van Dongen (1920–2010) does his seventh cover (far surpassing Dean Ellis's five). Since Eric Frank Russell (1905–1978) was unavailable at the time this volume was compiled, no Afterword is included.
Alan Dean Foster relates in the introduction that during a lunch with John Campbell they realized they both had the same favorite sci-fi writer: Eric Frank Russell. But both lamented (this was 1968) that Russell no longer wrote that much. This seems like very high praise, since it comes from two very influential figures in the sci-fi field. But who was Eric Frank Russell, and why did he quit writing?
Eric Frank Russell was a British writer (which I found surprising since his dialogue sounds American to my reading). He grew up in a military family, but didn't serve in the military until World War II. Most of his early life was spent writing for American and British pulp magazines. He also produced a few novels, some fairly successful, including Sinister Barrier (1943) and Wasp (1957), which was optioned by Ringo Starr of The Beatles, but never filmed.
[Click the images for space-sized versions.]
1986 Del Rey US editions of Russell's novels. Covers by Barclay Shaw and Ralph McQuarrie
But why did Russell quit writing later in life? Russell explained, "I can't write without being enthusiastic and I can't get enthusiastic about an old-hat plot." (p. xiv). Evidently he believed that all of the best sci-fi ideas had been used up, and he personally couldn't come up with anything new. But fortunately, we still have his early works.
The short stories contained in The Best of Eric Frank Russell are what I think of as typical sci-fi pulp fare: spaceships, aliens, scientific extrapolations, etc. But Russell had his own unique take. Alan Dean Foster describes him as being ahead of his time, highlighting ecological concerns and often conceiving the universe, both humans and alien, as able to live in harmony. Foster is on to something, but after having read the book I would characterize it a little differently.
In short, I think Russell's stories are written with heart.
Reprint edition (1986). Cover by Barclay Shaw
For example, "Jay Score" is about a space mission gone awry. The ship is manned by both humans and aliens, with a clear pilot-hero named, you guessed it, Jay Score. Though the story clearly focuses on the main character, the backdrop of aliens and humans sticking out this harrowing journey together is quite endearing and sounds realistic — as if you're being told a tangibly-felt survivor story. It's just that some of the survivors are also alien.
"Dear Devil" is a very endearing tale about an alien who makes his home on a post-apocalyptic Earth to help civilization begin again. Though the alien is clearly terrifying and disgusting in appearance, his slow and methodical way of winning over children, and later adults, allows him to help humans regain some measure of culture, and puts them on a trajectory of development and prosperity. I really enjoyed this story.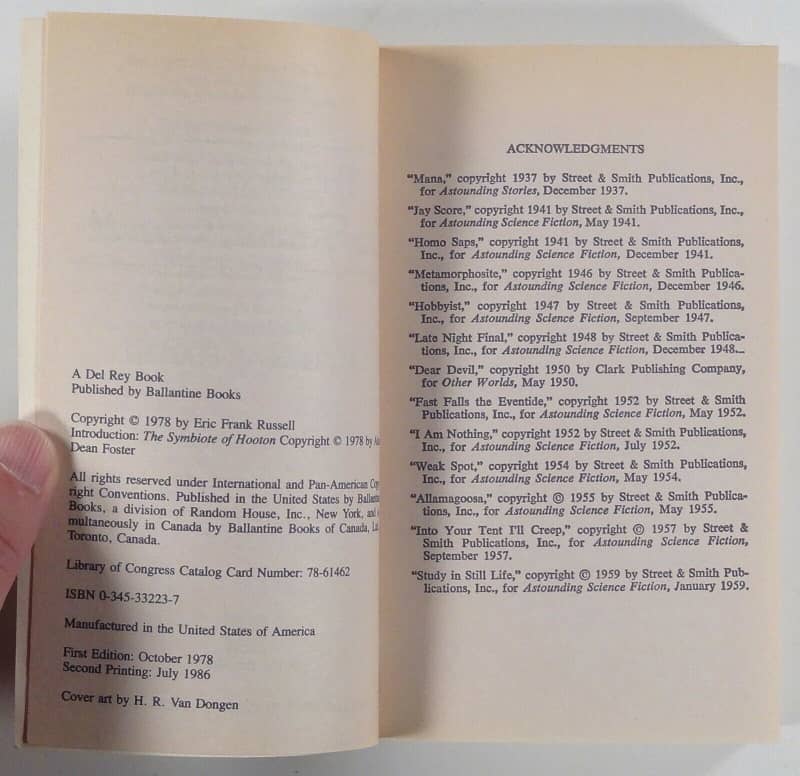 Acknowledgements page
However, the incomparable story in this volume is "I am Nothing," one of the most moving stories I've ever read. It centers upon David Korman, the leader of a conquering space empire from the planet Morcine. It starts with Morcine declaring war on the weak planet of Lani, whose inhabitants are quelling beneath force-fields. Given this technology, Korman is forced to send in infantry and tanks to lay siege (which for some reason can get around such technology).
Korman's son is one of the leading soldiers on the front — a war hero whom Korman is very proud of. But the story becomes incredibly intriguing when Korman and his wife receive a letter from their son (I guess communication technology is limited) asking them to take in a Lanian girl whom he's found and fallen in love with. The Kormans (and the reader) immediately assume this is a love interest, but we soon learn it's actually a little girl who's been traumatized by the war. Despite this difference, Korman is still enraged by the softness his son demonstrates against "the enemy."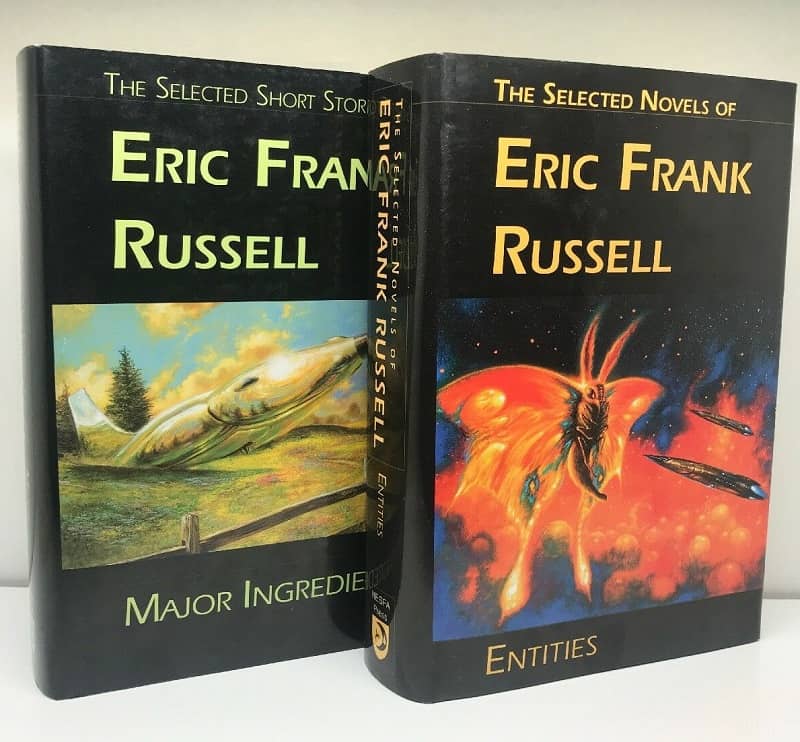 The excellent NESFA Press collected Eric Frank Russell, in two volumes
But, interestingly, Korman soon begins to soften towards the little girl as well. The turning point comes when a psychologist gets her to write something about what has traumatized her.
"I am nothing and nobody. My house went bang. My cat was stuck to a wall. I wanted to pull it off. They wouldn't let me. They threw it away." (p. 267).
I found this incredibly shocking, and moving. Korman also becomes deeply affected, and claims he also feels that he is nothing. He eventually accepts and loves the girl, learning that true victory is "Victory over self." (p. 271). Maybe this sounds sappy in my re-telling, but I found it to be very powerful, and the most potent example of Russell's ability to write with heart.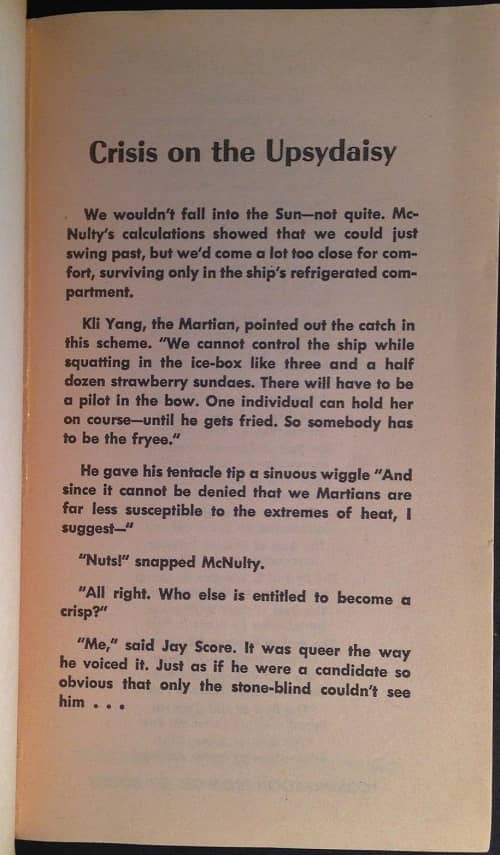 Inside flap copy
Too bad there aren't more Eric Frank Russells writing today. I heartily recommend The Best of Eric Frank Russell.
Here's the complete Table of Contents for The Best of Eric Frank Russell.
Introduction: The Symbiote of Hooton, by Alan Dean Foster
"Mana" (Astounding Stories, 1937)
"Jay Score" (Astounding Science Fiction, 1941)
"Homo Saps" (Astounding Science Fiction, 1941)
"Metamorphosite" (Astounding Science Fiction, 1946)
"Hobbyist" (Astounding Science Fiction, 1947)
"Late Night Final" (Astounding Science Fiction, 1948)
"Dear Devil" (Other Worlds, 1950)
"Fast Falls the Eventide" (Astounding Science Fiction, 1952)
"I Am Nothing" (Astounding Science Fiction, 1952)
"Weak Spot" (Astounding Science Fiction, 1952)
"Allamagoosa" (Astounding Science Fiction, 1955)
"Judgment Day" (Astounding Science Fiction, 1955)
"Into Your Tent I'll Creep" (Astounding Science Fiction, 1957)
"Study in Still Life" (Astounding Science Fiction, 1959)
Our previous articles on Eric Frank Russell include:
"We Thought We Were Immortal": Robert Bloch on J. Francis McComas, Eric Frank Russell, and Leigh Brackett
Sentinels of Space by Eric Frank Russell / The Ultimate Invader edited by Donald Wollheim
Men, Martians, and Machines
Six Worlds Yonder / The Space Willies
Somewhere a Voice
Wasp
Birthday Reviews: Eric Frank Russell's "A Great Deal of Power" by Steven H Silver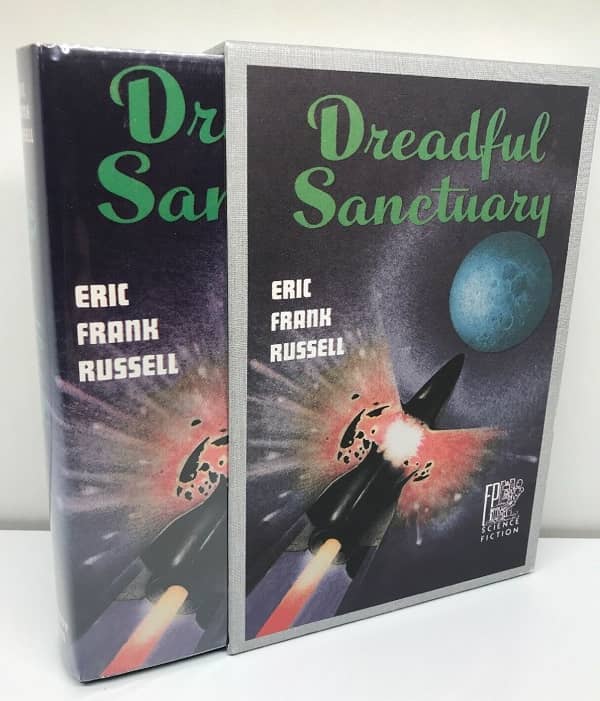 Dreadful Sanctuary (Fantasy Press, 1948) – First Edition Library facsimile edition (1979)
And our previous coverage of the Classics of Science Fiction line includes (in order of publication):
See all of our recent Vintage Treasures here.