Birthday Reviews: Eric Frank Russell's "A Great Deal of Power"
Birthday Reviews: Eric Frank Russell's "A Great Deal of Power"
Most days in 2018, I'll be selecting an author whose birthday is celebrated on that date and reviewing a speculative fiction story written by that author. 
Cover by Alex Schomberg
Eric Frank Russell was born on January 6, 1905 and died on February 28, 1978. His story "Allamagoosa" was awarded the second Hugo Award for Short Story and in 2000, he was inducted into the Science Fiction Hall of Fame. His story "A Great Deal of Power" was originally published in Fantastic Universe in August/September, 1953, edited by Sam Merwin, Jr. It has been reprinted several times, occasionally under the title "Boomerang."
Russell sets "A Great Deal of Power" in a twenty-first century in which Germany is governed by a Sixth Reich, three scientists have determined that the way to avoid bloody wars is to create a way of causing the death of powerful men who refuse to give up power. They have successfully done so, building their technique, which they don't actually understand, into a humanoid robot named William Smith. They dispatch Smith to kill a short list of powerful men by simply asking them to give up power. If the men refuse, Smith's mystical ability will automatically cause the men to die, apparently from natural causes, in a short time.
The story moves long quickly, with a lack of details. The men on Smith's list are painted with brief descriptions which outline the sources of their power…wealth, position, size, but none of them are given real personalities beyond an impatience with a man who has shown up and demanded that they relinquish the power they have acquired. Nothing about them indicates that they are deserving of the executions bestowed on them by Wurmser, Kluge, and Speidel. The Germans who created Smith, although Russell does obliquely address that fact by having his scientists, the real villains of the piece, note that the test list is made up of people who are only tangentially important to their enemies in order not to arouse suspicion.
Russell was writing a short, semi-humorous statement about power and he succeeded in his objective, although the story feels vague, hinting at a more biting satire which Russell did not release from his initial concept.
Reprint reviewed in the anthology The Wizards of Odd, edited by Peter Haining, Legend Books, 1997.
---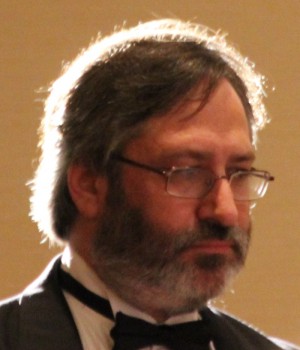 Steven H Silver is a fifteen-time Hugo Award nominee and was the publisher of the Hugo-nominated fanzine Argentus as well as the editor and publisher of ISFiC Press for 8 years. He has also edited books for DAW and NESFA Press. He began publishing short fiction in 2008 and his most recently published story is "Big White Men—Attack!" in Little Green Men—Attack! Steven has chaired the first Midwest Construction, Windycon three times, and the SFWA Nebula Conference 5 times as well as serving as the Event Coordinator for SFWA. He was programming chair for Chicon 2000 and Vice Chair of Chicon 7. He has been the news editor for SF Site since 2002.