Vintage Treasures: The Spell of Seven, edited by L. Sprague de Camp
Vintage Treasures: The Spell of Seven, edited by L. Sprague de Camp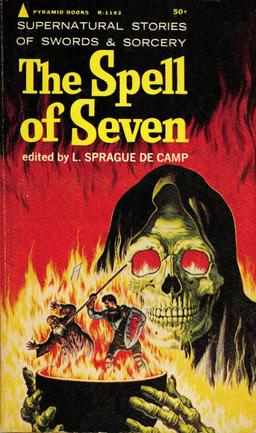 It takes real effort to keep on top of even a fraction of the exciting new work in the fantasy genre every week. Between the print magazines, online outlets like Subterranean and Beneath Ceaseless Skies, paperbacks, hardcovers, and self-published and independent work from talented folks just outside mainstream publishing, it's exhausting. Luckily, it's also extremely rewarding, and I feel fortunate indeed to be part of such a lively and vibrant branch of literature.
Of course, there are also weeks when I say, "The hell with it," and settle in with a great vintage paperback.
This was one of those weeks. And the book that lured me away from the latest crop of promising new writers clamoring for my attention was L. Sprague de Camp's The Spell of Seven, a slender sword & sorcery anthology from 1965.
I'll admit up front that I thought that The Spell of Seven was a standalone title. I'm a child of the late 20th Century; when a book is part of a series, I expect the publisher to sell me on that up front. (It's easier to mug me for more money that way.)
Fortunately, I have the collective hive-mind of Black Gate to call upon. One of the great lobes of that mind is Brian Murphy, who pointed out that the book was a follow-up to De Camp's seminal S&S anthology Swords and Sorcery, and part of a successful series that would eventually evolve into a four volume survey from Pyramid Books covering the most important heroic fantasy of the time.
Here are Brian's comments, taken from his 2011 review of The Fantastic Swordsmen.
Although many of its foundational writers had already sailed into the west, swords and sorcery reached a Weird peak in the 1960s. In 1961 Fritz Leiber coined the term "swords and sorcery" in the journal Ancalagon. The Swordsmen and Sorcerer's Guild of America (can I get a membership, please?) began the first of its secretive meetings. And the Lancer published, L. Sprague De Camp and Lin Carter-edited Conan series with its splendid Frank Frazetta covers was everywhere…

In that strange time of tie-dye and Tolkien, when shining kingdoms lay spread across the pages of paperback books, Pyramid Books published four swords and sorcery anthologies. Edited by fantasy/science fiction author L. Sprague de Camp, the series began with Swords and Sorcery (1963) and concluded with 1970's Warlocks and Warriors.

I recently acquired read the third in the series, 1967's The Fantastic Swordsmen. Its table of contents is a roll of some of the greatest sword and sorcery heroes of all time: Conan the Cimmerian, Elak of Atlantis, Elric of Menibone, and Brak the Barbarian. The authors herein are true giants of the genre with writing muscles to match the knotted sinews of their heroes.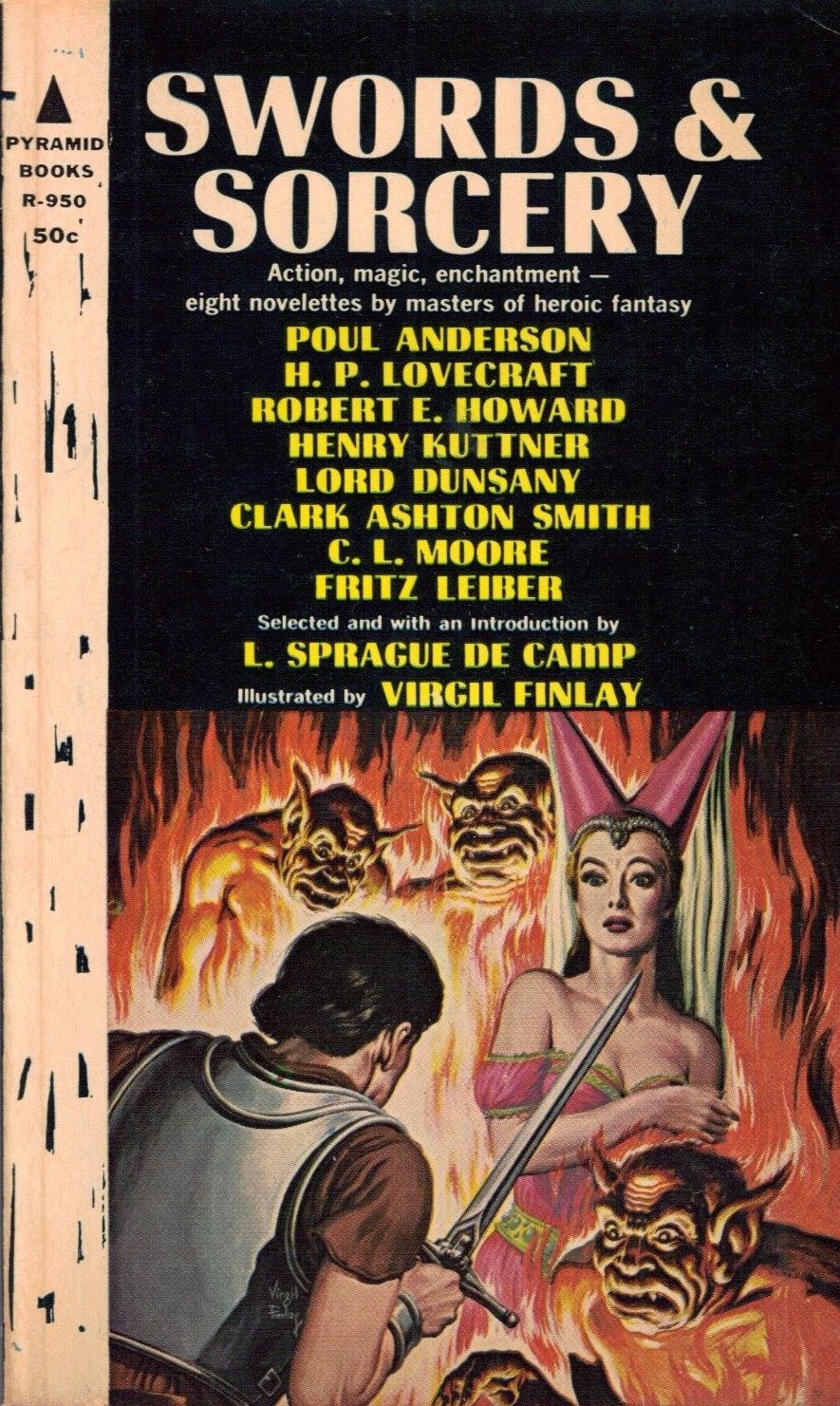 The Spell of Seven is a fantastic follow-up to Swords and Sorcery, containing classic pulp reprints from Clark Ashton Smith, Robert E. Howard, Jack Vance, Michael Moorcock, Lord Dunsany, Fritz Leiber, and L. Sprague de Camp.
I greatly appreciate the sizable modern S&S anthologies like John Joseph Adams's Epic, Jonathan Strahan and Lou Anders' Swords & Dark Magic, and Hartwell and Weisman's The Sword & Sorcery Anthology, all of which are 480+ pages in trade paperback, and any one of which is practically a library of sword & sorcery fiction all on its own.
Yet I still find that The Spell of Seven has one compelling advantage over them all: it's short. At a slender 192 pages, it offers that rarest of literary treasures — a quick read.
Here's the complete Table of Contents (with links to the story discussions at Wikipedia).:
Introduction: Wizards and Warriors," by L. Sprague de Camp
"Bazaar of the Bizarre," by Fritz Leiber
"The Dark Eidolon," by Clark Ashton Smith
"The Hoard of the Gibbelins," by Lord Dunsany
"The Hungry Hercynian," by L. Sprague de Camp
"Kings in Darkness," by Michael Moorcock
"Mazirian the Magician," by Jack Vance
"Shadows in Zamboula," by Robert E. Howard
The Spell of Seven was followed by The Fantastic Swordsmen (1967), and finally Warlocks and Warriors (1970).
The Spell of Seven was edited by L. Sprague de Camp and published by Pyramid Books in 1965. The cover was by the great Virgil Finlay. It is 192 pages, originally priced at 50 cents. Copies are a little more expensive today, but not much. I bought a virtually new copy last month on eBay for under $1, as part of a collection of 10 Pyramid paperbacks for $9.50.
Our other coverage of L. Sprague de Camp includes:
The Compleat Enchanter by L. Sprague de Camp and Fletcher Pratt
Tales From Gavagan's Bar by L. Sprague de Camp and Fletcher Pratt
Land of Unreason by Fletcher Pratt and L. Sprague de Camp
L. Sprague de Camp, Fletcher Pratt, Gardner Fox and Appendix N: Advanced Readings in D&D
Hubert Rogers' Astounding Covers — And His Fascinating Correspondence with Robert A. Heinlein and L. Sprague de Camp, by Doug Ellis
Swords & Sorcery edited by L. Sprague De Camp
The Barbarism of Bullfighting and Archaic Diction in L. Sprague de Camp's "The Rug and the Bull" by Gabe Dybing
The Spell of Seven, edited by L. Sprague de Camp
See all of our recent Vintage Treasures here.