New Treasures: The Sword & Sorcery Anthology
New Treasures: The Sword & Sorcery Anthology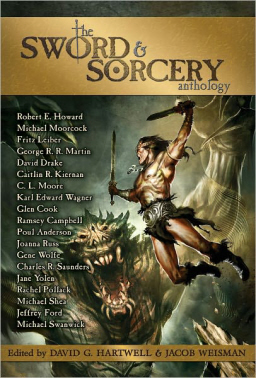 We announced The Sword & Sorcery Anthology was shipping last week, but I'm glad to report that I now have it in my hot little hands.
And it looks gorgeous. It's 480 pages in thick, oversize paperback, and sits nicely in my lap as I recline in my big green chair. Where it will remain for much of the rest of the weekend, I think.
In fact, I have two copies, courtesy of co-editor and publisher Jacob Weisman. I was going to add it to the list of titles that go out regularly to our dedicated team of freelance reviewers, but maybe I'll just give it to the first one that asks for it. Or maybe I'll encase it in plastic and carefully bury it in a time capsule in my back yard. Future generations with thank me (assuming they can figure out what a book is).
David Drake's introduction notes that while two stories in this book originated in Weird Tales — the magazine that gave birth to Sword & Sorcery — three come from the legendary small press magazine Whispers, edited by Stuart David Schiff from 1973 to 1987. Drake was the assistant editor for Whispers starting with the second issue; his musings on the authors and fiction included in this volume are fascinating.
Other sources include Swords Against Darkness, Science Fantasy, Fantastic and Asimov's SF magazines, Marion Zimmer Bradley's Sword & Sorceress anthologies, Orbit 2, and such recent books as Eclipse Three (2009), edited by Jonathan Strahan, and Strahan and Lou Anders 2010 anthology Swords & Dark Magic.
Two pieces — Michael Shea's new Nift the Lean story "Epistle from Lebanoi," and Michael Swanwick's "The Year of the the Three Monarchs" — are original to this volume.
The Sword & Sorcery Anthology was edited by David G. Hartwell and Jacob Weisman. The cover is is by Jean Sebastien Rossbach. It is published by Tachyon Publications, and priced at $15.95 for the print version and $10.95 in digital format. More complete details are here, and the complete Tables of Contents is here.