Tachyon Announces Contents of The Sword & Sorcery Anthology
Tachyon Announces Contents of The Sword & Sorcery Anthology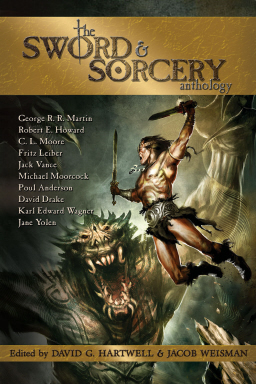 Our friend Jacob Weisman at Tachyon Publications has announced the contents of his long-awaited new book, The Sword & Sorcery Anthology.
The 432-page trade paperback will contain classic tales of S&S from Robert E. Howard, George R.R. Martin, Fritz Leiber, C.L. Moore, Michael Moorcock, Jack Vance, Karl Edward Wagner, Poul Anderson, David Drake, and others — including an original tale from Nift the Lean author Michael Shea:
Terrifying barbarians, cunning mages, and daring heroes run rampant through these exceptional classics of the exciting sword & sorcery genre. From Robert E. Howard to Jane Yolen, this fast-paced anthology is a chronological gathering of influential, inventive, and entertaining fantasy adventure stories. In "Tower of the Elephant," Conan takes up jewel thievery but, as is his wont, proves far better with his sword. "The Flamer Bringers" finds anti-hero Elric infiltrating a band of bloodthirsty mercenaries and outwitting a powerful sorcerer. "Become a Warrior" is the unexpected tale of a child who loses all she holds dear, only to gain unforeseen power and unlikely revenge. Further entries come from early sword & sorcery legends such as Jack Vance and Catherine Louise (who wrote as C. L.) Moore, the next wave of talents including Fritz Leiber and Michael Moorcock, and modern trendsetters like Karl Edward Wagner and David Drake. An original story from Michael Shea rounds out this essential anthology, which will particularly appeal to fans of action-oriented fantasy titles such as The Lord of the Rings and the Song of Fire and Ice series.
The Sword & Sorcery Anthology is edited by David G. Hartwell and Jacob Weisman. It will be released on June 1, 2012 by Tachyon Publications, and priced at $15.95. Read complete details here.