The Sword & Sorcery Anthology Now on Sale
The Sword & Sorcery Anthology Now on Sale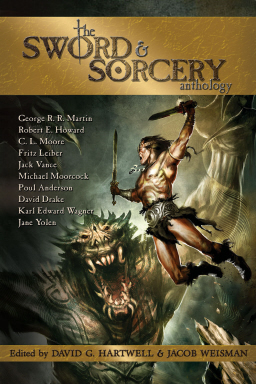 One of the year's most anticipated books has arrived — a few days ahead of its official June 1 publication date.
The Sword & Sorcery Anthology, edited by David G. Hartwell and Jacob Weisman, is now on sale. This massive 480-page tome contains classic S&S tales from the writers who created the genre — including C. L. Moore, Fritz Leiber, Robert E. Howard, Poul Anderson, Karl Edward Wagner and Michael Moorcock — as well as modern masters such as Charles R. Saunders, Glen Cook, George R. R. Martin, Jeffrey Ford, and Caitlín R. Kiernan.
It also includes "Epistle from Lebanoi," an original tale by Michael Shea, author of the classic Nifft the Lean, and "The Year of the Three Monarchs," a new story by Michael Swanwick.
The early reviews have already been filled with praise, including this one from Publishers Weekly:
Hartwell and Weisman have selected some of the best short-form work in the genre… This is an unbeatable selection from classic to modern, and each story brings its A game.
With an introduction by David Drake, "Storytellers: A Guided Ramble into Sword and Sorcery Fiction" and a tantalizing assortment of stories I'm unfamiliar with — including "Gimmile's Song" by Charles R. Saunders, "Soldier of an Empire Unacquainted with Defeat" by Glen Cook, "Six from Atlantis" by Gene Wolfe, and "Path of the Dragon" by George R. R. Martin — this ones leaps right to the top of my want list.
The Sword & Sorcery Anthology is published by Tachyon Publications, and priced at $15.95 for the print version and $10.95 in digital format. More complete details are here, and the complete Tables of Contents is here.