Things Your Writing Teacher Never Told You: The Nebulas and the College 7
Things Your Writing Teacher Never Told You: The Nebulas and the College 7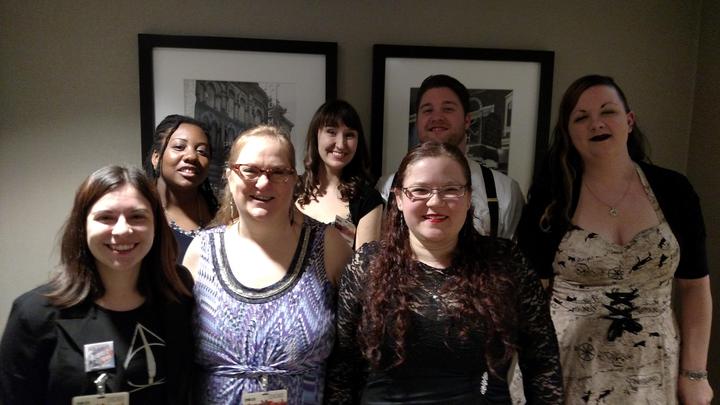 Six of the College 7 with their instructor. From left to right, back row first: C. T. Booth,
Lexi Baisden, T. Daniel Frost, Sara King. Front: Rissa Martin, Tina Jens (instructor), Kali Rose.
(Not pictured, because she does not do pictures, Tazmania Hayward)
The fact that the Nebulas were held at the Palmer House this year, which is just a handful of blocks from Columbia College, meant that a select group of students and I could finish the last week of classes, deal with graduation, and still take part in the SFWA festivities.
Thanks to the kindness of event coordinator Steven Silver, and the SFWA Powers That Be, they agreed to allow seven students, mostly seniors, to do volunteer work before, during, and after the Nebulas, in exchange for memberships to the weekend of panels, signings, and awards galas.
I taught two classes at Columbia this semester, meeting on Thursday and Friday afternoons. On Thursday, I was able to twist the arm of Laura Anne Gilman, a former high-powered SF/F acquisitions editor and now full-time novelist and editorial freelancer, to come speak to my Fantasy Writing Workshop class for the first hour. (As she told one of my students, it's not like she could say no, she was sleeping on my library futon for the weekend.)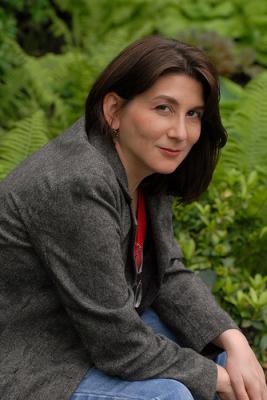 Laura Anne Gilman
She had some excellent advice for the class on a wide range of topics including how many drafts of a book does she usually write, effective networking techniques, and what ought to be on an author's website. She also did a very credible commercial for the Scrivener software. For some good advice from her, check out her Pro-Tips blog.
After she left us, we talked a bit more about building a writing community after college. Then we read "Toll Bridge" by Terry Pratchett — something I always do in the last session of this class — and talked briefly about the themes. Especially about how it should inspire us to build on what's been written before us in the field, but not simply repeat what's been done before. That's followed by the "Have a good summer," "Thank you for a wonderful class," hugs for the students who are huggers, and chatting for awhile with the stragglers who simply don't want the semester to end.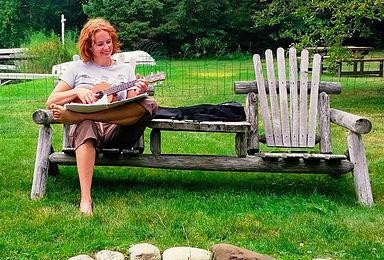 So by the time I got to the Palmer House Thursday, the panels and hospitality suite had been in full swing for a few hours. The second person I met in the hall – I hadn't even registered yet – approached me and said, "You look like the kind of person who might have a band-aid on them. (I carry a backpack and dress like an Earth-mother hippie-chick most of the time. And yes, I had a band-aid in my basic supplies kit in my backpack.)
"Where are you from?" Kelley McCarron asked, as she taped the bandaid onto the blister that was forming on her heel.
"Here in Chicago. I teach at Columbia College."
"Oh! You must know the College 7! They're the super heroes of the convention!"
It was then I knew we were in for a spectacular weekend.
It was not the last time I was asked that.
I think a lot of folks were viewing the student being there as a grand experiment, and it's one that turned out grandly. It was such a success that I've been commissioned to write an article for the SFWA Bulletin about it. After they've published it, I'll see if they'll let us link it here.
If you enjoy writing tips, you might check out some of the articles in the Pro-Tip Series:
Laura Anne Gilman: How to Solve Writer's Block
Lawrence Watt-Evans: I Wish I'd Known This When I Started Writing
Karen Taylor: To Outline or Not to Outline?
Paul Dale Anderson 1: Ideas & Improving My Writing
Paul Dale Anderson 2: Beginnings, Endings, Self-editing and Other Craft Problems
Cat Rambo: Finding the Right Starting Point
Alyssa Wong: When is a Piece Ready to Send Out?
Martin Mundt: To Outline or Not to Outline?
Theodora Goss: Writing in More Than One Medium or Genre
Elizabeth Massie: How to Get Unstuck and Solve Writer's Block
Gemma Files: Plot vs. Character
Season's Greetings: Some Recommendations To Warm Your Cold Cockles
Craig Shaw Gardner: Critique Groups and First Readers
Lucienne Diver: Plot vs. Character
Carlos Hernandez: Structure, Point of View & Discovery
Nancy Kilpatrick: Getting the Ending Right
A.J. Aalto: Butt-In-Seat: Discipline and the Muse
Also, check out the first of what will be an occasional feature: Quick Takes, where several authors weigh in on the same question.
Escaping the Darkness: What to Do When Your Imaginary World Gives You Real Nightmares
If you've got a question you'd like me to pose to the pros, put it in the comments section.
---
Tina L. Jens has been teaching varying combinations of Exploring Fantasy Genre Writing, Fantasy Writing Workshop, and Advanced Fantasy Writing Workshop at Columbia College-Chicago since 2007. The first of her 75 or so published fantasy and horror short stories was released in 1994. She has had dozens of newspaper articles published, a few poems, a comic, and had a short comedic play produced in Alabama and another chosen for a table reading by Dandelion Theatre in Chicago. Her novel, The Blues Ain't Nothin': Tales of the Lonesome Blues Pub, won Best Novel from the National Federation of Press Women, and was a final nominee for Best First Novel for the Bram Stoker and International Horror Guild awards.
She was the senior producer of a weekly fiction reading series, Twilight Tales, for 15 years, and was the editor/publisher of the Twilight Tales small press, overseeing 26 anthologies and collections. She co-chaired a World Fantasy Convention, a World Horror Convention, and served for two years as the Chairman of the Board for the Horror Writers Assoc. Along with teaching, writing, and blogging, she also supervises a revolving crew of interns who help her run the monthly, multi-genre, reading series Gumbo Fiction Salon in Chicago. You can find more of her musings on writing, social justice, politics, and feminism on Facebook @ Tina Jens. Be sure to drop her a PM and tell her you saw her Black Gate blog.