Things Your Writing Teacher Never Told You: Columbia College Chicago Alumni Fantasy Writers Look at the Changing Role of Heroes in Terry Pratchett's Troll Bridge Film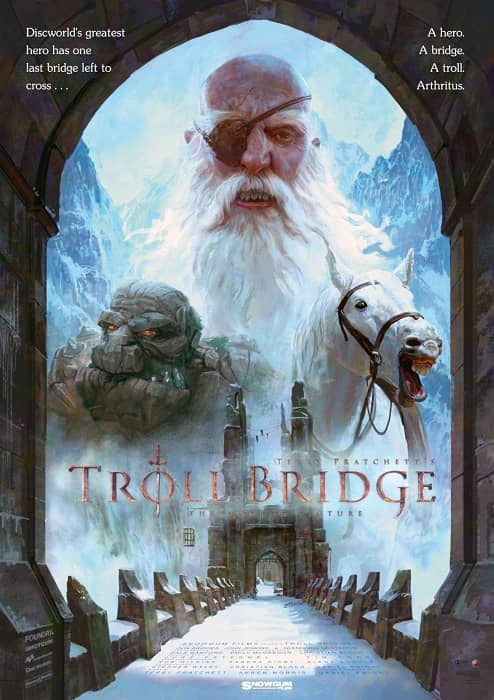 Troll Bridge, Snowgum Films (2019)
The air blew off the mountains, filling the air with fine ice crystals.

It was too cold to snow. In weather like this wolves came down into villages, trees in the heart of the forest exploded when they froze. In weather like this right-thinking people were indoors, in front of the fire, telling stories about heroes.
This is the epic, atmospheric opening to Sir Terry Pratchett's marvelous short story, "Troll Bridge," set in his Discworld series.
As I write this, it is not too cold to snow, though it's much too nasty to be outside. The wind is howling and the snow is blowing, and here in Chicago they've predicted we'll get a foot of snow in 48 hours. Texas looks like the Midwest in winter, and there's damned few snowplows in the Lonestar state. A whopping 80% of the US currently has snow on the ground.
In past winters, I have seen coyotes slinking around the park a block from our condo building, and one glorious Yuletime night, I saw a 10 point buck, antlers coated in ice, standing in the middle of Michigan Ave, on the Magnificent Mile. It was an icy, wind-whipped night, the type where the snow turns everything it touches into a glowing icicle. Only the buck and I were foolish enough to be out that night. That was 30 years ago, and I remember it clearly to this day.
As the wind howls past my window tonight, it takes little imagination to think packs of wolves might be coming down from the wilds of Wisconsin to stalk through the streets of Chicago.