Peter Straub: Men Love Him, Women Want to be Like Him 
Peter Straub: Men Love Him, Women Want to be Like Him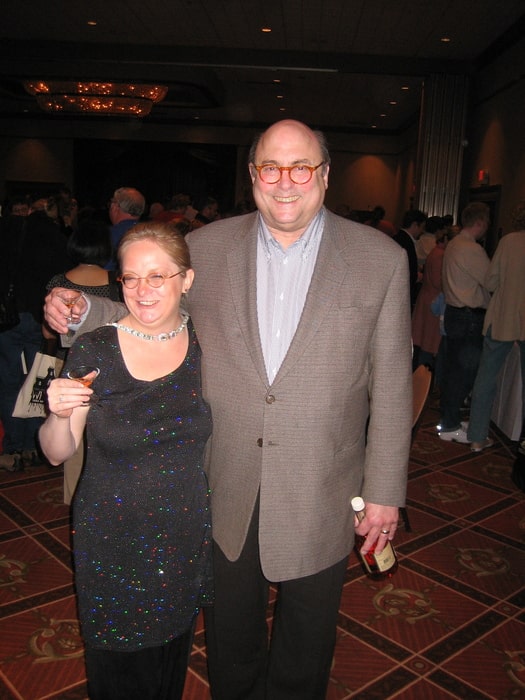 TIna Jens and Peter Straub
Peter Straub, who passed away on September 4, was the Toastmaster at World Horror Convention 2006 San Francisco. Tina Jens was asked to write his "appreciation" essay for the program book. Here it is, in its entirety.
Barbie wants to be an astronaut. Geena Davis wants to be president. When I grow up, want to be Peter Straub. We've all got to have our dreams. And let's face it, as dreams so, I'm shooting for a much farther star than Barbie or Geena.
Maybe it's because, rumor has it, Peter still dresses for dinner each night. (And I'm not implying the alternative is Peter showing up for dinner in his skivvies.) If you've seen him at a convention, you know he looks damned fine in his custom suits. (We won't talk about his old publicity photo where he looked like a dead ringer for Hank Kingsley on The Larry Sanders Show.)
Maybe it's because he spent time as an ex-pat writer in Ireland, then London, or that he lists Raymond Chandler, Herman Melville, and Charles Dickens as his favorite authors, alongside Dennis Lehane and William Faulkner.
Maybe it's because Rosemary Clooney, the brassy and beautiful singer of "Mambo, Italiano" was a family friend (which means he may well have had a play date with George Clooney). Although when he first told me that, I didn't watch ER and was much more impressed that he knew Rosemary; but since we're talking about it, Peter – can you introduce me to George?
Maybe it's because Peter's now a TV star, having made his debut this March in a recurring role as Peter Braust, a retired Atlantic City police officer on One Life to Live. Could an acting gig with George be far behind? Peter also took a star turn as "The Count" – a prime suspect and the murderer – at a swank Mohawk Mountain House (New Paltz, New York) murder mystery weekend. Can dinner theater be far behind?
Maybe it's because his fiction inspired the dark and dreamy music of Nick Cave. Or that he's a fan of jazz. Or, more likely, that he sold the first novel he ever wrote to the first publisher he submitted it to.
Maybe it's because when we served together on the Horror Writers Association Board of Trustees, no emergency was big enough – and there were lots of HWA emergencies back then – to interrupt his date with his daughter to watch Buffy the Vampire Slayer. (I heard he once told his agent to call back after the show was over.)
Maybe it's because when he led his HWA Trustee compatriots to his favorite cigar store in Manhattan on a Friday night, he was greeted like royalty. De La Concha was a big store; virtually every square foot was packed with people. (Apparently Friday nights are a big cigar-buying night in the Big Apple.) When we walked in, a sudden hush fell over the crowd. All six employees left the customers they were serving, came out from behind the counters, and lined up to greet "Mr. Straub, our good customer." After admiration-filled greetings, the clerks returned to their customers; but the manager stayed beside Peter, who helped each trustee pick out a cigar that would suit her or his taste. We lit up proudly at the cocktail party (outside). Standing on the terrace on the 27th floor of the Warwick Hotel, looking out over a moonlit Manhattan, smoking cigars and scheming how to take over the world – led by Peter, of course – is one of my fondest memories.
Maybe it's because when we meet up at cons, he calls me "Ms. Jens" with that rumbly voice of his, then drinks all my bourbon while I drink all his vodka. (With the help of Tom Monteleone and Thomas Tessier, he's been swayed to the dark side and swears he drinks only bourbon and nice vintage wine, now.)
More likely it's because – for all his wealth, fame, and success – there's still a part of that little boy from Milwaukee, who grew up Lutheran and went to boarding school, who suffered a near-fatal accident in first grade and spent time in a wheelchair, still lurking in his demeanor.
Coming up through the ranks of the field, we're all warned not to be "fangirls" and fawn all over the big names, like we were Bettyjean from Poughkeepsie. It's not cool. It isn't done. And yet, I was sitting with Peter in the lobby bar at the Warwick Hotel when a young, never-published author approached, pulled out three books for autographs and began gushing about his favorite characters and favorite scenes and "Why did you decide to have your lead character do this…" It was hard to tell who was having the best time, the fanboy or Peter. As I listened to their earnest conversation, character by character, plot twist by plot turn, I slipped away – I felt like I was spying. Half an hour later, they were still talking.
Why not? You could spend a full weekend talking to Peter about your personal favorites among his books, heroes, bad guys, and monsters. (I encourage you to do so this weekend.) My favorite is Shadowland, tied with Floating Dragon, tied with Mystery, tied with. . .
That's why he's toastmaster at WHC-06, isn't it? Who among us, when asked our favorite Straub book, can name just one? With seventeen novels, two volumes of poetry, and two collections of short stories, how do you pick a favorite? Ranking them by awards doesn't make it much easier; he's won five Bram Stoker Awards (The Throat, Mr. X, Magic Terror, Lost Boy Lost Girl, and "Mr. Clubb and Mr. Cuff"), two International Horror Guild Awards ("Mr. Clubb and Mr. Cuff", Lost Boy Lost Girl), two World Fantasy Awards (Koko and "The Ghost Village"), and the British Fantasy Award (Floating Dragon).
In 1998, he was named Grand Master at the World Horror Convention, joining the ranks of Dean Koontz, Robert Bloch, Anne Rice, Ray Bradbury, and his buddy and twice-collaborator, Stephen King. And Peter's still just a pup – okay, a Cujo-sized pup who's outgrown his doghouse and has spikes on his collar. The point is, he's spent thirty-three years in this business, surviving the horror bust of the 80s, and the best is yet to come.
Of course maybe the reason he's Toastmaster goes back to that fan and the owner of the cigar store. Peter has an innate skill at connecting with people. It's not surprising if you've read his fiction. His books are filled with multi-generational families. He writes his teenagers and 10-year-old boys, grandmothers, and just-turned-40 women with compassion and believability. No matter the age, gender, or ethnicity, the voices of his characters ring true. No matter how horrible the character's deeds, he writes them in such a way that we empathize with them. Maybe that's because he empathizes with the whole world.
At a Guest of Honor speech last summer during the Midwest Literary Festival, Peter told the crowd of an ongoing friendship with a homeless man. Actually, he didn't talk about anything so Hallmark Moments ™ as an ongoing friendship: he wasn't bragging about his philanthropic nature. Tony was a member of Peter's Posse, Straub said. Tony was a funny, wise man, to hear Peter tell it. He also told me recently that, "Tony has cleaned up and moved on to a better posse than mine."
Many horror writers say they hear voices in their head. Peter hears voices on the street, captures them, and pours them onto the page.
Tina's previous article about Peter Straub was Things Your Writing Teacher Never Taught You: A Look At How Peter Straub Crafts His Opening Chapters.
---
Tina L. Jens is a 2017 Rubin Family Fellowship recipient for a residency at the Ragdale artists retreat. She has been teaching varying combinations of Exploring Fantasy Genre Writing, Fantasy Writing Workshop, and Advanced Fantasy Writing Workshop at Columbia College-Chicago since 2007. The first of her 75 or so published fantasy and horror short stories was released in 1994. She has had dozens of newspaper articles published, a few poems, a comic, and had a short comedic play produced in Alabama and Florida and two others chosen for a table reading by Dandelion Theatre in Chicago. Her novel, The Blues Ain't Nothin': Tales of the Lonesome Blues Pub, won Best Novel from the National Federation of Press Women, and was a final nominee for Best First Novel for the Bram Stoker and International Horror Guild awards.
She was the senior producer of a weekly fiction reading series, Twilight Tales, for 15 years, and was the editor/publisher of the Twilight Tales small press, overseeing 26 anthologies and collections. She co-chaired a World Fantasy Convention, a World Horror Convention, and served for two years as the Chairman of the Board for the Horror Writers Assoc. Along with teaching, writing, and blogging, she also supervises a revolving crew of interns who help her run the monthly, multi-genre, reading series Gumbo Fiction Salon in Chicago. You can find more of her musings on writing, social justice, politics, and feminism on Facebook @ Tina Jens. Be sure to drop her a PM and tell her you saw her Black Gate blog.