With Dark and Twisted Turns: Bad Times at the El Royale
With Dark and Twisted Turns: Bad Times at the El Royale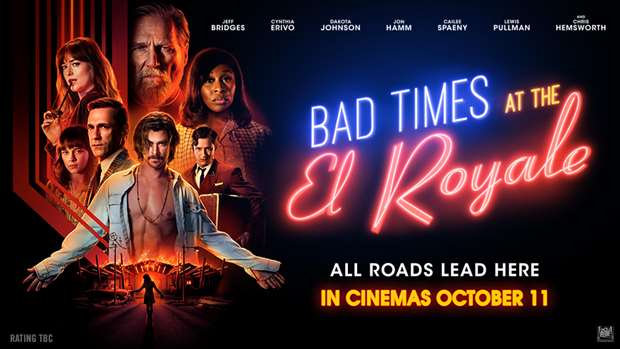 I just watched Bad Times at the El Royale and really liked it. It was clearly influenced by the best of Quentin Tarantino and Robert Rodriguez.
The cast is an impressive one, including Jeff Bridges, Jon Hamm, Chris Hemsworth (giving a remarkable messianic performance worthy of Jim Morrison), and Nick Offerman (in a small role). Cynthia Erivo also does her own singing. Her voice, like her acting, is stunning, and she provides the soundtrack to much of the movie.
Dakota Johnson, Cailee Spaeny, and Mark O'Brien also turn in top-notch performances. All the actors are excellent, and I do mean that. I've never seen a movie that was more perfectly cast and perfectly acted.
It toys with who the protagonist or point of view character is, slipping in and out of each character deftly. Each is revealed to be not who we thought they were, and then when we think we know who they really are, that's proven wrong, too. With dark and twisted turns it explores the question of what is good and what is evil. It posits that there's more than a little of each in all of us.
The movie handles time slips really well, which allows us to see scenes from different perspectives, turning our understanding of the events upside down.
The pacing is unusual, which is probably why the movie wasn't a bigger hit. In the beginning, particularly, you have to settle in and not try to rush it. It starts out at a low simmer, lulling you into a false belief that you know what's coming next. That makes the reveals that are coming far more powerful.