Things Your Writing Teacher Never Told You: Pro-Tip From Theodora Goss
Things Your Writing Teacher Never Told You: Pro-Tip From Theodora Goss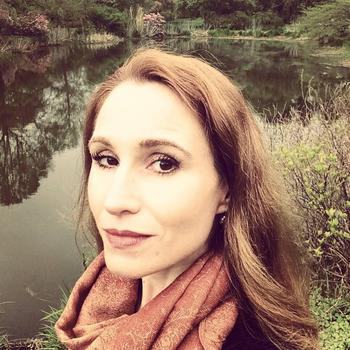 This week's Pro-Tip comes from Theodora Goss, a popular and multi-award nominated writer of fairy tales and poetry who teaches writing at Boston University and the Stonecoast MFA program. She has been a finalist for the Nebula, Locus, Crawford, Seiun, and Mythopoeic Awards, as well as on the Tiptree Award Honor List. Her short story "Singing of Mount Abora" won the World Fantasy Award.
Do You Write for More Than One Medium or in More Than One Genre? Why?
Let's see, what have I written? A novel, which is coming out from Saga Press in 2017, with a sequel in 2018. Novellas, short stories, poems, essays. Some of my poems have been set to music, although they weren't intended as song lyrics. I've written a poem to accompany a work of art in an exhibit. I've even written academic articles. There are certainly things I haven't tried, but I'd like to . . .
Why do I write in different genres? Part of the reason is that for me, writing is half craft and half art. Writing in different genres lets me work on my craft: writing a poem, for example, will force me to pay attention to rhythms and the sounds of language, while writing a novel is an exercise in plotting, in constructing a more thoroughly realized world than I can create in a short story. Every genre requires something different from me, and writing in them all allows me to remain flexible, to practice my craft in a variety of ways.
The other part of the reason is that I love doing different things, just like a dancer who is trained in ballet but does modern and jazz, for the fun of it, to see what they will require from her, to rise to new challenges. I love new challenges! I haven't yet written a script or a screenplay, but who knows… maybe someday!
---
Papaveria Press has released two books by Theodora , simultaneously. The first is a new edition of her acclaimed short story collection In the Forest of Forgetting. The second is a 146-page, 80-poem collection Songs for Ophelia.
Here's a more complete listing of Theodora Goss's publications:
In the Forest of Forgetting (2006), short story collection
Interfictions (2007), a short story anthology coedited with Delia Sherman
Voices from Fairyland (2008), a poetry anthology with critical essays and a selection of her own poems
The Thorn and the Blossom (2012), a novella in a two-sided accordion format
Songs for Ophelia (2014), a poetry collection
You can also find links to some of her online publications, as well as a more info about this Hungarian-born author at her website.
The other articles in the Pro-Tip Series are:
Laura Anne Gilman: What do you do to get unstuck and solve writer's block?
Lawrence Watt-Evans: What do you know now that you wish you had known when you started writing/ publishing?
Karen Taylor: To outline or not to outline?
Paul Dale Anderson 1: Ideas & Improving My Writing
Paul Dale Anderson 2: Beginnings, Endings, Self-editing and other craft problems
Cat Rambo: Finding the Right Starting Point
Alyssa Wong: When is a Piece Ready to Send Out?
Martin Mundt: To Outline or Not to Outline — What Works for You?
If you've got a question you'd like me to pose to the pros, put it in the comments section.
---
Tina L. Jens has been teaching varying combinations of Exploring Fantasy Genre Writing, Fantasy Writing Workshop, and Advanced Fantasy Writing Workshop at Columbia College-Chicago since 2007. The first of her 75 or so published fantasy and horror short stories was released in 1994. She has had dozens of newspaper articles published, a few poems, a comic, and had a short comedic play produced in Alabama and another chosen for a table reading by Dandelion Theatre in Chicago. Her novel, The Blues Ain't Nothin': Tales of the Lonesome Blues Pub, won Best Novel from the National Federation of Press Women, and was a final nominee for Best First Novel for the Bram Stoker and International Horror Guild awards.
She was the senior producer of a weekly fiction reading series, Twilight Tales, for 15 years, and was the editor/publisher of the Twilight Tales small press, overseeing 26 anthologies and collections. She co-chaired a World Fantasy Convention, a World Horror Convention, and served for two years as the Chairman of the Board for the Horror Writers Assoc. Along with teaching, writing, and blogging, she also supervises a revolving crew of interns who help her run the monthly, multi-genre, reading series Gumbo Fiction Salon in Chicago. You can find more of her musings on writing, social justice, politics, and feminism on Facebook @ Tina Jens. Be sure to drop her a PM and tell her you saw her Black Gate blog.