Frontier Guard, Robot Ships, and Rascal Traders: Rich Horton on Space Service, edited by Andre Norton
Frontier Guard, Robot Ships, and Rascal Traders: Rich Horton on Space Service, edited by Andre Norton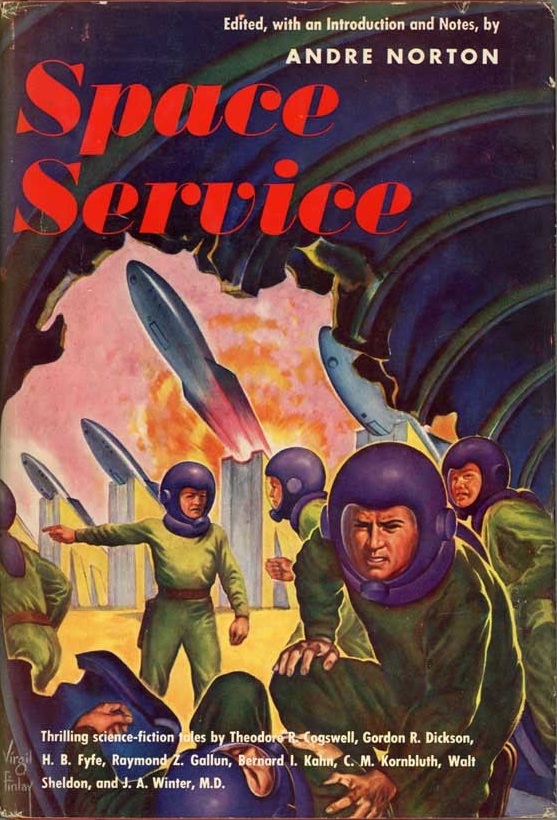 Andre Norton is one of the most revered science fiction writers of the 20th Century. True, much of her work is out of print these days, and she seems to have more or less fallen out of favor with modern readers (except Fletcher Vredenburgh, naturally), but there are still plenty of SF fans who credit her with their introduction to science fiction.
Many readers don't know that Norton made a name for herself as an editor before she became acclaimed for her own writing. Her three SF anthologies for World Publishing Co., all published between 1953-56, remain some of her most collectible work. Party that's due to their relative rarity, but the Vigil Finlay covers are also a big factor. These are gorgeous books, eagerly sought by collectors, especially in good condition.
Over at his website Strange at Ecbatan, Rich Horton reviews the first one, Space Service. It appeared in hardcover in 1953 and, like the other two, has never been reprinted.
Norton's three World Publishing Anthologies are:
Space Service (279 pages, $2.50 in hardcover, January 1953) — cover by Virgil Finlay
Space Pioneers (294 pages, $2.75 in hardcover, February 1954) — cover by Virgil Finlay
Space Police (255 pages. $2.75 in hardcover, 1956) — cover by Virgil Finlay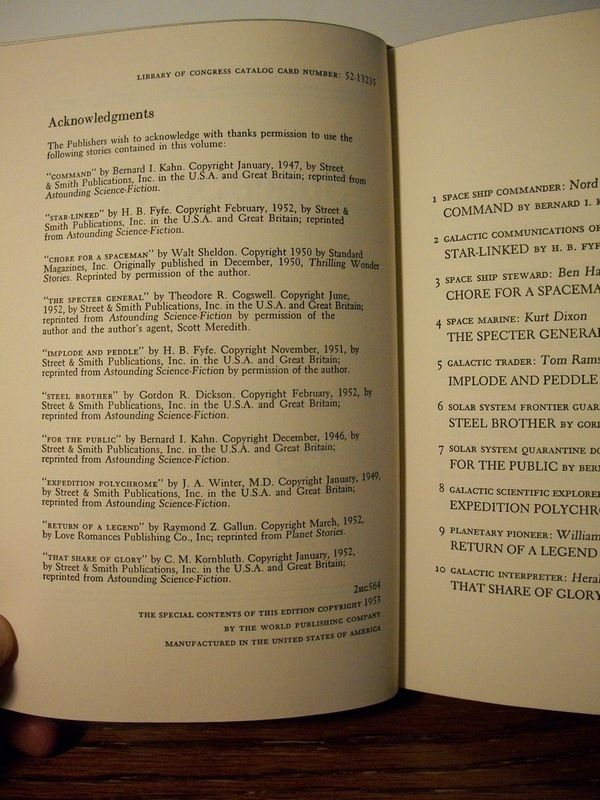 Here's the complete Table of Contents for Space Service:
"Command," by Bernard I. Kahn (9,500 words)
"Star-Linked," by H. B. Fyfe (5,500 words)
"Chore for a Spaceman," by Walt Sheldon (6,900 words)
"The Specter General," by Theodore Cogswell (23,000 words)
"Implode and Peddle," by H. B. Fyfe (12,800 words)
"Steel Brother," by Gordon R. Dickson (10,000 words)
"For the Public," by Bernard I. Kahn (12,500 words)
"Expedition Polychrome," by J. A. Winter (8,500 words)
"Return of a Legend," by Raymond Z. Gallun (6,000 words)
"That Share of Glory," by C. M. Kornbluth (13,000 words)
Here's Rich.
I had not known Andre Norton had edited anthologies, but actually she did three in the 1950s for World Publishing. (And a couple later in her life.) These early ones were Space Service (1953), Space Pioneers (1954), and Space Police (1956). All were, it seems, aimed at the YA market.

I found a copy of Space Service at an antique mall on the near South Side of St. Louis, for $6.95. It's ex-lib, with a taped spine, no dj, only fair to good condition otherwise. The value of a really nice copy is illustrated by one I saw at Worldcon: very good to fine condition, with a dust jacket: $110…

The stories date from 1946 through 1952, and 8 of them are from Astounding. (The Sheldon story is from Thrilling Wonder, and the Gallun from Planet Stories.) This highly skewed ratio seemed normal in Adventures in Time and Space from 1946, but in a 1953 anthology, drawing from years when Thrilling Wonder Stories and Startling Stories in particular were much improved, as well as from the first couple of years of Galaxy and F&SF, it seems a bit ASF-heavy…

"The Specter General" was his first published story, and remains probably his most famous. It was oen of the novellas selected for the Science Fiction Hall of Fame, by vote of the members of SFWA. It's set on a long-forgotten planet, where the remnants of the 427th Light Maintenance Battalion of the Imperial Space Marines have maintained a tradition of educating their children to understand the maintenance manuals that remain, even though the defunct Empire has not returned for centuries. The commander of the battalion maintains the fiction of the Empire by staging a periodic visit from the Inspector General. The action here is driven by the typically energetic young marine, Kurt Dixon, who ends up hiding in a space armor suit and accidentally blasting off into space…

"Steel Brother" may have been the first solo Gordon Dickson story to make a lasting impact. It's about a Solar System Frontier Guard, Thomas Jordan. The Frontier Guards man a somewhat implausible series of station at the edge of the Solar System, which each control a phalanx of robot ships that attack the aliens that periodically try to invade. Thomas Jordan has just taken his first command, and he's convinced he's a coward. He's also afraid of the implanted connection to the stored memories of all his predecessors (the "steel brother"): he's heard stories of people losing their identity and being overwhelmed by the memories. So when his first attack comes, he funks it, and almost lets the alien ships through, until he finally allows the "steel brother" to help — and learns a lesson about, well, comradeship…
Read Rich's complete review here.
Here's a look at the complete dust jackets for all three anthologies in the series. Space Pioneers is only one I've managed to secure a copy of (so far).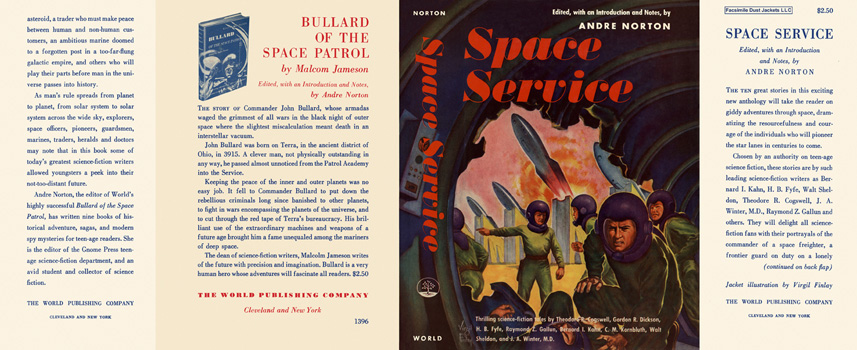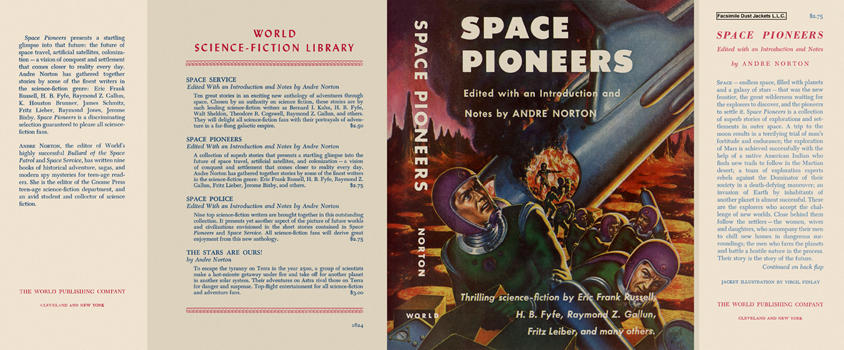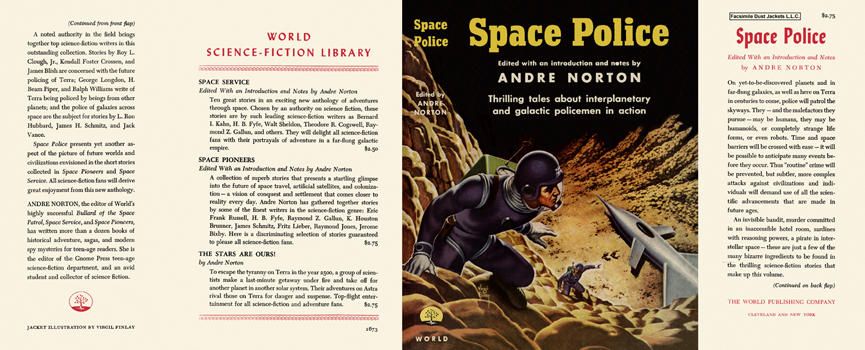 World Publishing also published one of Norton's first novels, The Stars Are Ours, in 1954, in a handsome hardcover edition with another Virgil Finlay cover. Unlike the anthologies, however, this one was reprinted in paperback — many times.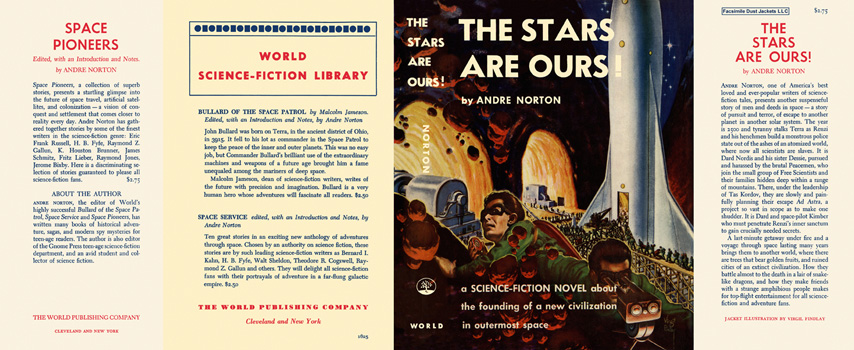 Andre Norton is a popular subject at Black Gate. Our recent coverage includes:
The Sioux Spaceman
Secret of the Lost Race
Sargasso of Space
Grand Masters' Choice, edited by Andre Norton
The Beast Master and Lord of Thunder
Everything's Coming up Aces: All the Covers of Galactic Derelict
Galactic Derelict
The Last Planet 
Velvet Shadows
Return to the Witch World: The Crystal Gryphon by Fletcher Vredenburgh
The End of the Story: Sorceress of the Witch World by Fletcher Vredenburgh
To The Dark Tower He Came: Warlock of the Witch World by Fletcher Vredenburgh
Year of the Unicorn by Fletcher Vredenburgh
Three Against the Witch World by Fletcher Vredenburgh
Kirkus Looks at Andre Norton's Young Adult Novels
A Point of Transition: Andre Norton's Witch World by Matthew David Surridge
Andre Norton, Michael Moorcock and Appendix N: Advanced Readings in D&D
Star Soldiers and Other Free Kindle Books at Amazon.com
To the King a Daughter by Andre Norton and Sasha Miller
The Omnibus Volumes of Andre Norton, Part One
The Women of Andre Norton's Witch World by Violette Malan
Andre Norton: Are Her Men Really Women? by Violette Malan
Lore of the Witch World by by Fletcher Vredenburgh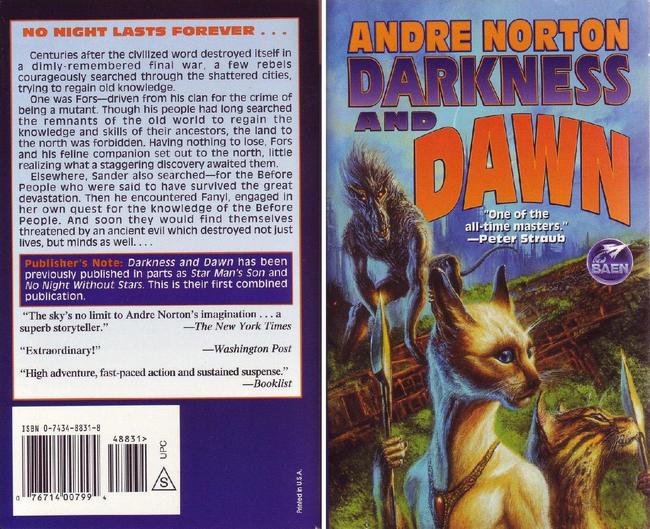 See all our recent Vintage Treasures here.