November 2016 Lightspeed Magazine Now Available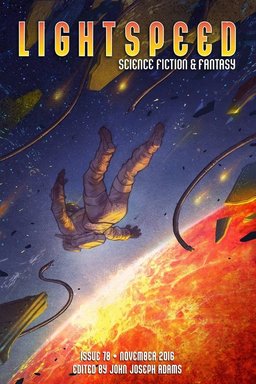 Trying to keep up with uber-editor John Joseph Adams is exhausting. In his capacity as editor of two magazines (Lightspeed and Nightmare), a prolific anthology editor, and editor of John Joseph Adams Books for Houghton Mifflin Harcourt, he produces more books than I can read every month. Here's a snippet from his editorial in the current Lightspeed on his various doings this month.
As you may recall, in addition to editing Lightspeed and Nightmare, I am also the series editor of Best American Science Fiction and Fantasy, which launched last year. The first volume was guest edited by Joe Hill, and the 2016 volume (which came out October 4) is guest edited by Karen Joy Fowler…

My new anthology [What the #@&% is That?] — co-edited with Douglas Cohen — releases this month…. I just released new editions of my anthologies Federations and The Way of the Wizard. The new covers are both by the wonderful and talented Matt Bright at Inkspiral Design… Next month, the final volume in the POC Destroy series will publish as a special issue of Fantasy Magazine (which was merged into Lightspeed back in 2012).

In my role as editor of John Joseph Adams Books for Houghton Mifflin Harcourt, I just acquired a novel by debut author Bryan Camp: The City of Lost Fortunes, a novel about a magician with a talent for finding lost things who is forced into playing a high stakes game with the gods of New Orleans for the heart and soul of the city. Publication date is tentatively scheduled for Spring 2018. Meanwhile, I also bought a story by Bryan for Lightspeed, so you'll be seeing his short story debut sometime in the near future as well!
Whatever brand of coffee John is drinking, I need some. On top of everything else, John also reports that this month's Lightspeed includes a special section on comics and graphic novels by four guest-columnists: Christie Yant, Jenn Reese, Kate Galey, and Rachel Swirsky. They're also adding a new regular book review columnist, joining Andrew Liptak and Amal El-Mohtar.