Future Treasures: What the #@&% Is That? edited by John Joseph Adams and Douglas Cohen
Future Treasures: What the #@&% Is That? edited by John Joseph Adams and Douglas Cohen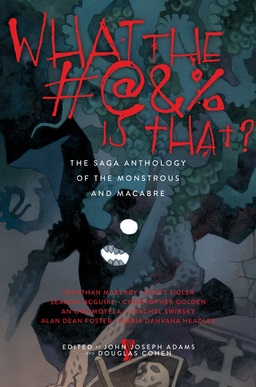 What's the deal with all these fabulous Saga anthologies? Where are they all coming from?
First there's The Starlit Wood: New Fairy Tales, edited by Dominik Parisien and Navah Wolfe, which arrived just last week. If you love fairy tales (and who doesn't?), it's the most important and high profile anthology in years.
But as much as I love fairy tales, my heart truly belongs to monster movies, and tales of strange and nasty creatures. John Joseph Adams and Douglas Cohen understand that, and their gift to readers like me is What the #@&% Is That?, a glorious collection of brand new monster tales by some of the top writers in the field. It arrives in trade paper from Saga Press next week.
Fear of the unknown — it is the essence of the best horror stories, the need to know what monstrous vision you're beholding and the underlying terror that you just might find out. Now, twenty authors have gathered to ask — and maybe answer — a question worthy of almost any horror tale: "What the #@&% is that?"Join these masters of suspense as they take you to where the shadows grow long, and that which lurks at the corner of your vision is all too real.

Includes stories by Laird Barron, Amanda Downum, Scott Sigler, Simon R. Green, Desirina Boskovich, Isabel Yap, Maria Dahvana Headley, Christopher Golden, John Langan, D. Thomas Minton, Seanan McGuire, Grady Hendrix, Jonathan Maberry, Gemma Files, Nancy Holder, Adam-Troy Castro, Terence Taylor, Tim Pratt, An Owomoyela & Rachel Swirsky, and Alan Dean Foster.
What the #@&% Is That? will be published by Saga Press on November 1, 2016. It is 368 pages, priced at $16.99 in trade paperback and $7.99 in the digital edition.