Future Treasures: The Starlit Wood: New Fairy Tales, edited by Dominik Parisien and Navah Wolfe
Future Treasures: The Starlit Wood: New Fairy Tales, edited by Dominik Parisien and Navah Wolfe
Every once in a while a really stellar anthology comes along that generates a lot of pre-publication whispers, gradually growing to a steady buzz of excitement. This year that anthology is The Starlit Wood: New Fairy Tales.
The Starlit Wood was assembled by Dominik Parisien, editor of the highly acclaimed Clockwork Canada, and Navah Wolfe, editor at one of the most exiting new imprints in the industry, Saga Press. Several of my friends have privately tipped me off that this is the best fantasy anthology of the year, and the public accolades have just started to pour in. Terri Windling calls it "Excellent… I loved it," Jeff VanderMeer says it's "Classy, smart, and entertaining… and featuring the best and most exciting fantasy writers working in the field today." And Publishers Weekly raved, saying it's "A rich sample of what awaits us in the world of fairy tales."
For anyone looking to revisit the wondrous (and frequently dark!) world of fairy tales — or who just wants to a taste of what the best writers in fantasy are doing today — The Starlit Wood is your best opportunity this year. It contains stories by Aliette de Bodard, Amal El-Mohtar, Jeffrey Ford, Max Gladstone, Margo Lanagan, Seanan McGuire, Garth Nix, Naomi Novik, Sofia Samatar, Catherynne M. Valente, Genevieve Valentine, and many others, and will be released in hardcover this month by Saga Press.
[Click the images for bigger versions.]
Here's a look at the opening of Cat Valente's story.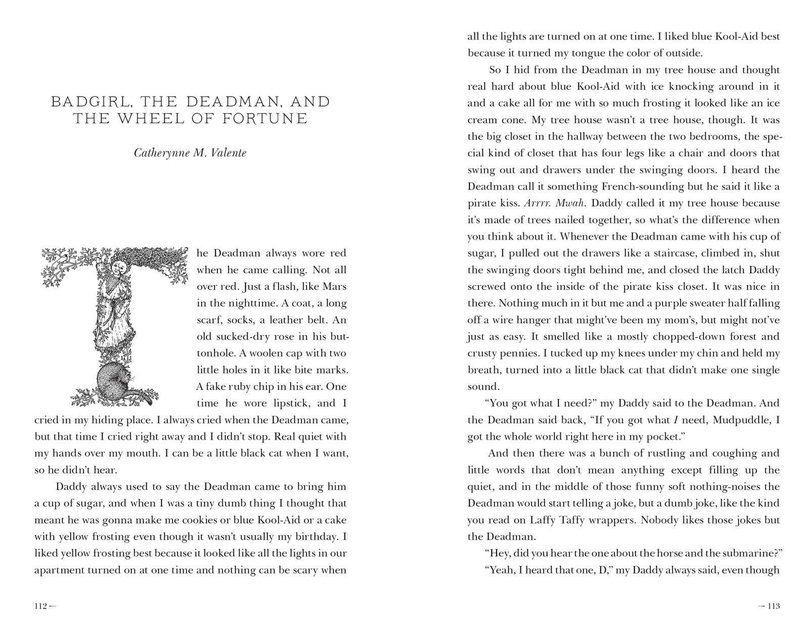 And "Penny For a Match, Mister?" by Garth Nix.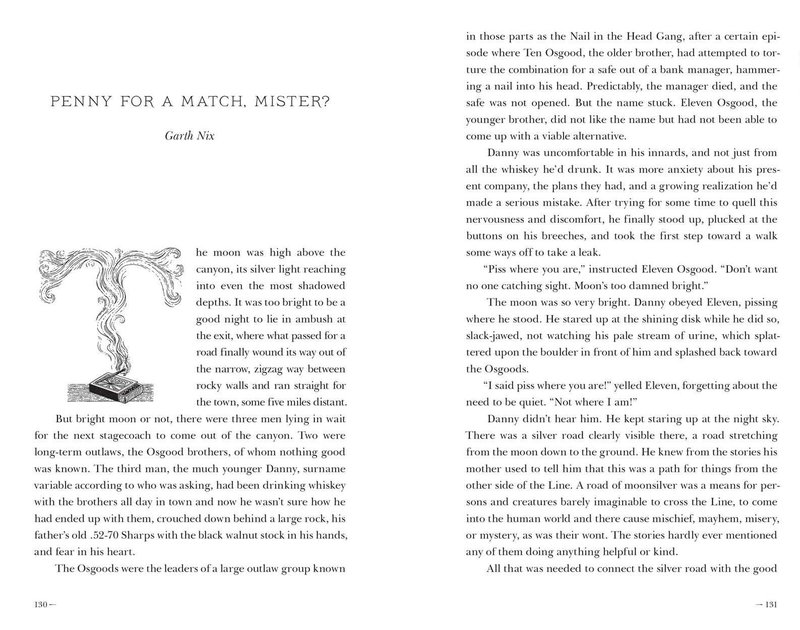 And here's the complete table of contents.
"The Super Ultra Duchess of Fedora Forest" by Charlie Jane Anders
"Pearl" by Aliette de Bodard
"Seasons of Glass and Iron" by Amal El-Mohtar
"The Thousand Eyes" by Jeffrey Ford
"Giants in the Sky" by Max Gladstone
"The Other Thea" by Theodora Goss
"Even the Crumbs Were Delicious" by Daryl Gregory
"Reflected" by Kat Howard
"Some Wait" by Stephen Graham Jones
"When I Lay Frozen" by Margo Lanagan
"The Briar and the Rose" by Marjorie M. Liu
"In the Desert Like a Bone" by Seanan McGuire
"Penny For a Match, Mister?" by Garth Nix
"Spinning Silver" by Naomi Novik
"The Tale of Mahliya and Mauhub and the White-Footed Gazelle" by Sofia Samatar
"Underground" by Karin Tidbeck
"Badgirl, the Deadman, and the Wheel of Fortune" by Catherynne M. Valente
"Familiaris" by Genevieve Valentine
The Start Wood: New Fairy Tales will be published by Saga Press on October 18, 2016. It is 392 pages, priced at $25.99 in hardcover and $7.99 for the digital version. The cover is by Benjamin Carre. Learn more at Dominik's website.
See all of our recent coverage of the best in upcoming fantasy here.