November 2016 Lightspeed Magazine Now Available
November 2016 Lightspeed Magazine Now Available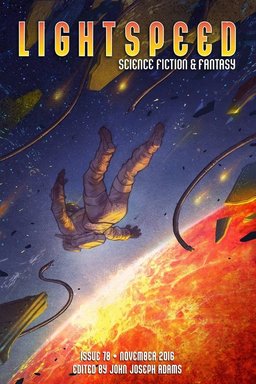 Trying to keep up with uber-editor John Joseph Adams is exhausting. In his capacity as editor of two magazines (Lightspeed and Nightmare), a prolific anthology editor, and editor of John Joseph Adams Books for Houghton Mifflin Harcourt, he produces more books than I can read every month. Here's a snippet from his editorial in the current Lightspeed on his various doings this month.
As you may recall, in addition to editing Lightspeed and Nightmare, I am also the series editor of Best American Science Fiction and Fantasy, which launched last year. The first volume was guest edited by Joe Hill, and the 2016 volume (which came out October 4) is guest edited by Karen Joy Fowler…

My new anthology [What the #@&% is That?] — co-edited with Douglas Cohen — releases this month…. I just released new editions of my anthologies Federations and The Way of the Wizard. The new covers are both by the wonderful and talented Matt Bright at Inkspiral Design… Next month, the final volume in the POC Destroy series will publish as a special issue of Fantasy Magazine (which was merged into Lightspeed back in 2012).

In my role as editor of John Joseph Adams Books for Houghton Mifflin Harcourt, I just acquired a novel by debut author Bryan Camp: The City of Lost Fortunes, a novel about a magician with a talent for finding lost things who is forced into playing a high stakes game with the gods of New Orleans for the heart and soul of the city. Publication date is tentatively scheduled for Spring 2018. Meanwhile, I also bought a story by Bryan for Lightspeed, so you'll be seeing his short story debut sometime in the near future as well!
Whatever brand of coffee John is drinking, I need some. On top of everything else, John also reports that this month's Lightspeed includes a special section on comics and graphic novels by four guest-columnists: Christie Yant, Jenn Reese, Kate Galey, and Rachel Swirsky. They're also adding a new regular book review columnist, joining Andrew Liptak and Amal El-Mohtar.
This month's Lightspeed offers up original science fiction by Chris Kluwe and Alyssa Wong, along with SF reprints by Lavie Tidhar and Mary Robinette Kowal, plus have original fantasy by J.B. Park and Helena Bell, and fantasy reprints by Alex Jeffers and Catherynne M. Valente.
The November issue  also features an editorial from JJA, author spotlights, a review of Westworld and Mr. Robot by Christopher East, an interview with Stephen Baxter, and book reviews by Kate M. Galey, Jenn Reese, Rachel Swirsky, and Christie Yant.
The cover artist this issue is Reiko Murakami. Here's the complete contents for the November issue.
Science Fiction
"Dinosaur Killers" by Chris Kluwe
Another rock fell today. Jaurez, on 54b. Pretty sure that's who it was. Maybe. Didn't talk much during the daily vidcalls, brown eyes peering out from beneath his shaggy black hair, floating every which way in zee-g. Supposed to keep it short, but company regs don't apply. Not anymore. His kids were on Croia Hab. Partner too. Three of thousands, now just clouds of matter joining all the other debris.

"Natural Skin" by Alyssa Wong
As I shrug on my jacket, moving across the carpet as quietly as I can, my sister Xuemei pushes her blankets aside and rolls over onto her belly with a soft murmur. "Liin jie. Where are you going?" Fuck. I glance at her across our shared bedroom, her pale skin glimmering in the near darkness. My shoes are already on; no use lying about it now. "Go back to sleep, kiddo."

"Under the Eaves" by Lavie Tidhar (from Robots: The Recent A. I., 2012)
"Meet me tomorrow?" she said. "Under the eaves." He looked from side to side, too quickly. She took a step back. "Tomorrow night." They were whispering. She gathered courage like cloth. Stepped up to him. Put her hand on his chest. His heart was beating fast, she could feel it through the metal. His smell was of machine oil and sweat.

"For Solo Cello, op. 12" by Mary Robinette Kowal (from Cosmos, 2007)
His keys dropped, rattling on the parquet floor. Julius stared at them, unwilling to look at the bandaged stump where his left hand had been two weeks ago. He should be used to it by now. He should not still be trying to pass things from his right hand to his left. But it still felt like his hand was there. The shaking began again, a tremelo building in his hand and knees.
Fantasy
"Shooting Gallery" by J.B. Park
It took a while, but in the end we bargained it down to a shot right on my chest, with his mom's gun. I didn't know anything about guns, but the thing he showed me looked safe enough, a little pistol that was smaller than the palm it rested on. Then we ran into another problem: Nick wanted to bring his buddies, or at least the ones he trusted.

"I've Come to Marry the Princess" by Helena Bell
Before Jack can apologize to Nancy, she has to believe that dragons exist. Nancy's mad at him because they were supposed to perform a skit at the talent show and he stood her up. They've been practicing it for two summers. It's called "I've Come to Marry the Princess." When Jack didn't show, Nancy had to go on stage all by herself. He didn't ditch her on purpose; his dragon egg was hatching and he needed to be there.

"Two Dead Men" by Alex Jeffers (from Icarus, Issue 14, Fall 2012)
Everybody knows everybody else in Fejz, they used to say. They meant the high town, crowded shoulder to shoulder on its twin narrow peaks, not the sprawl of the low town in the bottomlands under the escarpment and the falls. That was before the little war. It was never true but during the siege you learned how few you had known, how superficially you were acquainted with your nearest neighbors.

"A Dirge for Prester John" by Catherynne M. Valente (from Interfictions: An Anthology of Interstitial Writing, 2007)
We carried him down to the river. It churned: basalt, granite, marble, quartz—sandstone, limestone, soapstone. Alabaster against obsidian, flint against agate. Eddies of jasper slipped by, swirls of schist, carbuncle and chrysolite, slate, beryl, and a sound like shoulders breaking. Fortunatus the Gryphon carried the body on his broad and fur-fringed back.
Nonfiction
Editorial, November 2016 by John Joseph Adams
Media Review: Westworld by The Geek's Guide to the Galaxy
Book Reviews, November 2016 by Kate M. Galey, Jenn Reese, Rachel Swirsky, and Christie Yant
Interview: Stephen Baxter by The Geek's Guide to the Galaxy
Exclusive Paid Content
NOVELLA: "Karuna, Inc." by Paul Di Filippo
AUTHOR SPOTLIGHT: Paul Di Filippo, by Moshe Siegel
NOVEL EXCERPT: The Genius Asylum, by Arlene F. Marks
See the complete issue here.
Lightspeed is edited by John Joseph Adams. Most of the content is available free online; individual issues are available in multiple digital formats for $3.99. 6-month subscriptions are just $17.94 ($6 off the cover price), or $35.88 for 12 months ($12 off the cover price). Purchase copies and sample free content at the website.
We last covered Lightspeed with Issue 77, October 2016.
Check out Lightspeed's sister magazine Nightmare, also edited by John Joseph Adams.
See our Late-November Fantasy Magazine Rack here, and all of our recent Magazine coverage here.