October 2016 Nightmare Magazine, People of Colo(u)r Destroy Horror! Special Issue, Now on Sale
October 2016 Nightmare Magazine, People of Colo(u)r Destroy Horror! Special Issue, Now on Sale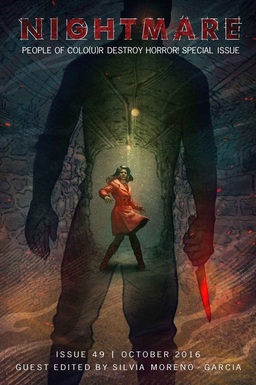 Uber-editor John Joseph Adams has had enormous success with his Kickstarter-funded DESTROY special issues of Lightspeed, Fantasy, and Nightmare. The original idea sprung from the ludicrous Alt-Right claim that women were destroying science fiction; that gave birth to the brilliant and groundbreaking Women Destroy Science Fiction! special issue of Lightspeed, a massive 479-page issue released in 2014.
Since then there have been multiple successful iterations, including Queers Destroy Science Fiction in June of last year, and People of Colo(u)r Destroy Science Fiction, in June of this year. The People of Colo(u)r Destroy Fantasy! special issue of Fantasy will be published in December, and The People of Colo(u)r Destroy Horror! special issue of Nightmare magazine arrived this month. Here's the description from the website.
Nightmare was founded on the core idea that all horror is real horror. The whole point of this magazine is that horror fiction is vast. It is inclusive. Horror is about all people and for all people.

The People of Colo(u)r Destroy Horror! special issue exists to relieve a brokenness in the genre that's been enabled time and time again by favoring certain voices and portrayals of particular characters. Here we bring together a team of POC writers and editors from around the globe to present horror that explores the nuances of culture, race, and history. This is horror for our present time, but also — most of all — for our future.

People of Colo(u)r Destroy Horror! is 100% written and edited by people of color, and is lead by guest editor Silvia Moreno-Garcia, with editorial contributions from Tananarive Due, Maurice Broaddus, Arley Sorg, and others. It features four original, never-before-published short stories, from Valerie Valdes, Nadia Bulkin, Gabriela Santiago, and Russell Nichols. Plus, there's four classic reprints by Nisi Shawl, Priya Sharma, Terence Taylor, and Pulitzer Prize-winning author Junot Díaz. On top of all that, we also have an array of nonfiction articles and interviews, from Alyssa Wong, Chesya Burke, Rochita Loenen-Ruiz, Jayaprakash Satyamurthy, and Chinelo Onwualu, as well as original illustrations by Kimberly Wengerd, SainaSix, Maggie Chiang, and Reiko Murakami.

Enjoy the destruction!
Here's the complete TOC for this special issue.
HORROR FICTION
"A Diet of Worms" by Valerie Valdes Author spotlight
"Cruel Sistah" by Nisi Shawl Author spotlight
"Wish You Were Here" by Nadia Bulkin Author spotlight
"The Show" by Priya Sharma (available on 10/26)
NONFICTION
On the Destruction of Horror: Notes from Your People of Colo(u)r Editors by People of Colo(u)r Destroy Horror! Editors
The H Word: The Darkest, Truest Mirrors by Alyssa Wong
Interview: Victor LaValle by Maurice Broaddus
Horror Is . . . Not What You Think or Probably Wish It Is by Chesya Burke (available on 10/26)
EXCLUSIVE PAID CONTENT
ORIGINAL FICTION: "None of This Ever Happened" by Gabriela Santiago
ORIGINAL FICTION: "The Taming of the Tongue" by Russell Nichols
REPRINT FICTION: "Wet Pain" by Terence Taylor
REPRINT FICTION: "Monstro" by Junot Díaz
ARTICLE: Terror, Hope, Fascination and Fear in Filipno Horror by Rochita Loenen-Ruiz
ARTICLE: Horror, Inside Out by Jayaprakash Satyamurthy
ARTICLE: The Thing We have to Fear by Chinelo Onwualu
Read the complete online contents of the October issue (issue #49) of Nightmare here, and see a handy summary of all the Lightspeed and Nightmare special issues here.
The cover art this issue is by Reiko Murakami.
Nightmare is edited by John Joseph Adams. Most of the content is available free online; individual issues are available in multiple digital formats for $3.99. 6-month subscriptions are just $11.94 ($6 off the cover price), or $23.88 for 12 months ($12 off the cover price). The October special issue, weighing in at 158 pages, is also available in trade paperback for $12.99. Purchase copies and sample free content at the website.
We last covered Nightmare with the May issue.
Check out Nighmare's sister magazine Lightspeed, also edited by John Joseph Adams.
See our October Fantasy Magazine Rack here, and all of our recent Magazine coverage here.