Sheri S. Tepper, July 16, 1929 – October 22, 2016
Sheri S. Tepper, July 16, 1929 – October 22, 2016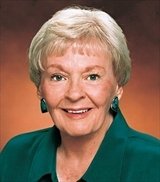 Sheri S. Tepper, the prolific fantasy author who was awarded the World Fantasy Award for Life Achievement last year, died on Saturday.
Sheri S. Tepper was the author of dozens of popular fantasy and science fiction novels. Her first published novel was King's Blood Four (1983), which became part of an ambitious 12-novel series set in The True Game universe, and which spanned her entire career. The seres included The True Game trilogy, the Mavin Manyshaped trilogy, the Jinian trilogy, and the Plague of Angels trilogy, which wrapped up with Fish Tails (2014). She authored many other popular series, including The Marianne Trilogy, the Ettison novels, The Awakeners novels, and especially the Marjorie Westriding trilogy, which began with the Hugo-nominated Grass in 1989.
Tepper's standalone novels included The Revenants (1984), After Long Silence (1987), The Gate to Women's Country (1988), The Locus Award-winner Beauty (1991), Gibbon's Decline and Fall (1996), The Visitor (2002), and The Companions (2003). In his tribute to Tepper this week, John Scalzi writes:
She was one of my favorite science fiction and fantasy writers, and an influence on my thinking about SF/F writing… Her novel Grass has the sort of epic worldbuilding and moral drive that ranks it, in my opinion, with works like Dune and Perdido Street Station and the Earthsea series; the (very) loose sequel to Grass, Raising the Stones, is in many ways even better… If you haven't read Grass, I really suggest you find it and put it near the top of your SF/F reading queue. You won't be disappointed… It's a stone classic.
Tepper began publishing poems and children's stories in the early 60s under the name Sheri S. Eberhart. Her first genre appearance was the poem "Lullaby, 1990" in the December 1963 Galaxy. Her 1989 novella "The Gardener" was nominated for the World Fantasy Award. She was 87 years old. See our prior coverage of her work here.