Lightspeed 61: Queers Destroy Science Fiction! Special Issue
Lightspeed 61: Queers Destroy Science Fiction! Special Issue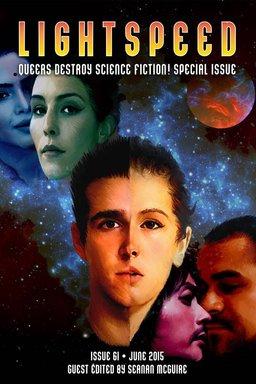 John Joseph Adams shook this town to its roots with his groundbreaking Women Destroy Science Fiction! issue of Lightspeed, released last June. Funded by an enormously successful Kickstarter campaign, WDSF! spawned a two successful sequels, Women Destroy Fantasy! and Women Destroy Horror!
In January of this year, John invited his readers to take a sledgehammer to the tight strictures of the genre once again, by funding a special Queers Destroy Science Fiction! of Lightspeed. The Kickstarter campaign closed on February 16; with an initial goal of $5,000, the campaign successfully raised $54,523 from 2,250 backers, surpassing even the lofty success of WDSF!
John and his team delivered the issue right on time this month. Lightspeed 61: Queers Destroy Science Fiction! is guest-edited by Seanan McGuire, and the magazine contains the following stories:
"Emergency Repair" by Kate M. Galey
"勢孤取和 (Influence Isolated, Make Peace)" by John Chu
"Bucket List Found in the Locker of Maddie Price, Age 14, Written Two Weeks Before the Great Uplifting of All Mankind" by Erica L. Satifka
"Melioration" by E. Saxey
"Rubbing is Racing" by Charles Payseur
"Helping Hand" by Claudine Griggs
"The Lamb Chops" by Stephen Cox
"Queers Destroy Flash Fiction!" by Sigrid Ellis
"Black Holes" by RJ Edwards (originally published in The Collection: Short Fiction from the Transgender Vanguard October 2012),
"Nothing is Pixels Here" by K.M. Szpara
"The Astrakhan, the Homburg, and the Red Red Coal" by Chaz Brenchley
"Madeleine by Amal El-Mohtar (available on 6/23)
"Red Run by A.M.J. Hudson (reprint, available on 6/23)
The nonfiction section is pretty impressive as well:
Backer Acknowledgments by Lightspeed Staff
About the Special Issue Staff by Lightspeed Staff
The Queers Destroy Science Fiction! Manifesto by Queers Destroy Science Fiction! Editors
Artists Showcase: Spotlight on the QDSF Illustrators by Elizabeth Leggett
Book Reviews, June 2015: Friendship, Chosen Family, and Queer Communities by Amal El-Mohtar
Interview: David Gerrold by Mark Oshiro (available on 6/23)
Here's the description:
Even in science fiction, supposedly the genre of limitless possibility, where everyone is invited to the adventure, heterosexual, heteroromantic, and cisgendered are considered the default, to the extent that everything else is "deviation," and must be eyed with suspicion. This issue contains 10 original science fiction short stories (selected by guest editor Seanan McGuire), including new stories by award-winning queer authors Amal El-Mohtar, and John Chu; 4 classic short story reprints and a novella reprint (selected by guest reprint editor Steve Berman); approx. 10,000 words of original flash fiction (selected by guest flash fiction editor Sigrid Ellis); 7 nonfiction articles (selected by guest nonfiction editor Mark Oshiro); approx. 30 personal essays about the experience reading and writing science fiction as a queer person (selected by managing editor Wendy N. Wagner); original artwork (selected by and featuring a cover by guest art director Elizabeth Leggett); and more!
Like WDSF!, the Queers Destroy Science Fiction! special issue of Lightspeed is also available in print — as a whopping 432 page trade paperback. The print edition also contains the following bonus content:
Novella
"O Happy Day!" by Geoff Ryman (originally published in Interzone: The 1st Anthology, March 1985)
Short Stories
"Trickier with Each Translation" by Bonnie Jo Stufflebeam
"The Tip of the Tongue" by Felicia Davin
"How to Remember to Forget to Remember the Old War" by Rose Lemberg
"Plant Children" by Jessica Yang
"Two By Two" by Tim Susman
"Die, Sophie, Die" by Susan Jane Bigelow
"Cyberfruit Swamp" by Raven Kaldera (originally published in Genderflex: Sexy Stories on the Edge and In-Between, September 1996)
"The Sound of His Wings" by Rand B. Lee (originally published in Isaac Asimov's Science Fiction Magazine, August 1982)
Articles
We've Made It To . . . Magrathea? by Jennifer Cross
Not Android, Not Alien, Not Accident by Cedar Rae Duke
Diversity in a Ghetto by Pablo Miguel Alberto Vazquez
Queers in a Strange Land by Amber Neko Meador
Flash Fiction
"Mama" by Eliza Gauger
"Deep/Dark Space" by Gabrielle Friesen
"A Brief History of Whaling with Remarks Upon Ancient Practices" by Gabby Reed
"Nothing Goes to Waste" by Shannon Peavey
"In the Dawns Between Hours" by Sarah Pinsker
"Increasing Police Visibility" by Bogi Takács
"Letter From an Artist to a Thousand Future Versions of Her Wife" by JY Yang
Novel Excerpt
Skin Folk by Nalo Hopkinson
PLUS: 27 personal essays by Queer Creators on Their Experiences With Science Fiction
The print issue of Lightspeed 61: Queers Destroy Science Fiction! is edited by Seanan McGuire and published by Lightspeed Magazine. It is 432 pages, priced at $17.99 in trade paperback, and $3.99 for the digital version.
Read the complete online version of the issue here.
Lightspeed is edited by John Joseph Adams. Most of the content is available free online; individual issues are available in multiple digital formats for $3.99. 6-month subscriptions are just $17.94 ($6 off the cover price), or $35.88 for 12 months ($12 off the cover price). Purchase copies and sample free content at the website.
The cover art for June is by Elizabeth Leggett.
We last covered Lightspeed with Issue 60, May 2015.
See our mid-June Fantasy Magazine Rack here, and all of our recent Magazine coverage here.