A Bittersweet Twist on Conventional Fantasy: Every Heart a Doorway, by Seanan McGuire
A Bittersweet Twist on Conventional Fantasy: Every Heart a Doorway, by Seanan McGuire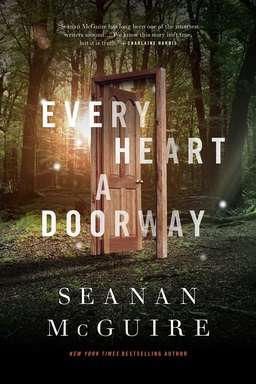 The closing months of the year always bring a host of "Best of…" lists. This year I was delighted to see one of my personal top five making those lists: Every Heart a Doorway by Seanan McGuire. A departure from McGuire's usual fare, Every Heart a Doorway is a bittersweet twist on conventional fantasy that neither shies from more dwells on the darker side of our encounters with the fantastic.
The premise of Every Heart a Doorway isn't exactly new. Out in the countryside exists a boarding school for unusual children.These children are all children living in the "after" part, the "after" that comes after The End. Each student at Eleanor West's School for Wayward Children has accidentally stumbled into an otherworld and then returned home to find themselves so changed that they can no longer fit in at home. Some of them are heartbroken at being kicked out of paradise. Some of them are traumatized by what they experienced there. Most of them hope to return to their individual worlds, somehow, by finding their Door again.
We find our own Door into this school through Nancy, a young woman who has just returned from one of several Lands of the Dead. Shortly after her arrival, another student is found dead and Nancy, along with her newly made friends, must find the killer before the school is closed or they become the next victims.
As a murder mystery, the plot itself isn't innovative. It is well plotted and paced, but there are no real surprises here. It doesn't need to be, though. The real strength comes from McGuire's characterizations and the subtle, quiet tone to the work.
McGuire is best known for her urban fantasy series of October Daye novels, which are well written and satisfying even as they sometimes fall victim to the problems that can plague longer series written on tight deadlines. I picked up Every Heart a Doorway expecting it to be well worth my time. But even with these expectations, I was very pleasantly surprised by this little gem of a book.
Fantasy and Sci-Fi almost always work as metaphors on some level, and it isn't surprising that a book about a school for misfits of any kind grapples with our own insecurities about adulthood, coming of age, and fitting in. But where it thrives most is where it captures that tension between your birth family and the family that we all make. For so many of us, our own fantasies of being accepted to Hogwarts or to Professor Xavier's School are about finding a second family that understand parts of us our families of origin never could; that help us understand parts of ourselves that we couldn't unlock on our own. I've heard more than one person say that there was something intensely familiar in Hagrid's first speech to a young Mr Potter: "You're a wizard, Harry." Not because we think we will develop magical powers, but because we have had that experience of discovering a fact about ourselves or about a group of others that suddenly explains everything about us that we thought was broken. Some find it in a diagnosis (I'm not lazy, there's actually something wrong with my body?!?). Some find it in coming out as a member of the Queer community. And some find it in the thrill that someone else — many someone elses — are excited by that one book that we thought no one else even KNEW about because no one in our neighborhood had heard of it.
Finding your tribe is exhilarating. But it can be bitter too. And McGuire is absolutely masterful at capturing the joy and sorrow of finding your tribe while knowing that people who love you, and whom you love very much, cannot or won't understand you. What's more, even within that found family we can't escape family conflicts.
Meanwhile, Eleanor West's School for Wayward Children stands as a waypoint between two extremes. Most of the students yearn terribly to return to their own worlds, places where they were princesses or heroes or even just honored friends. Places where they were extraordinary and where they were loved. Most of them know they will likely never manage this, just as we all know we can never return to childhood. Not just as an age or a developmental stage but in the simplicity and much-idolized but rarely examined "innocence" that our early years symbolize. Those of us who had happy childhoods of any kind don't actually want the powerlessness and vulnerability of youth. But we do often wish for that unquestioning sense of being loved, safe, and cared for. Those of us who were not so lucky in childhood carry a very different set of burdens.
It's a set of tensions that a veritable Sagan of authors have taken up, but rarely so effectively. McGuire's text is so subtle and smooth and yet so honest and unflinching that it simultaneously lulls and startles the reader. While we are left wanting much, much more (a desire McGuire will be fulfilling with further stories set in the same universe) the choice to keep the Every Heart a Doorway compact (it very nearly qualifies as a novella) makes its impact that much heavier. Nothing is wasted here, and McGuire's ability to hone in on the smallest details to sketch a striking portrait in few strokes craft a devastating work.
Every Heart a Doorway earns its place on the "Best of 2016" lists, and I suspect it will continue to garner interest for many years to come. It worth the price of admission, and if you enjoy it as well, you will be pleased to know that at least two more books in this setting are forthcoming, starting with Down Among the Sticks and Bones in January, 2017.
---
Elizabeth Cady's last post for Black Gate was Raising Your Young Geek.