Raising Your Young Geek
Raising Your Young Geek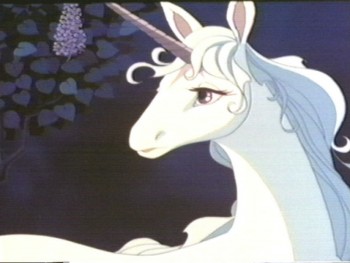 A few weeks ago, I was playing with my daughter, who is on the brink of turning four.
"Come here you little demon," I said.
"I'm not a demon! You're a demon!" she shrieked before pulling an imaginary sword and shouting "WINDSCAR!!!"
Yup. I got full on Inuyasha-ed by a four year old pixie child.
Raising children as a Geek means forging into unknown territory, at least for me. I'm a natural born geek myself, but I'm one of the few in my family. My older siblings introduced me to Star Wars, and discovered Trek thanks to friends at school. I found my own way into SFF fiction along the way, with help from teachers and other friends.
So figuring out raising kids and passing along the love of these things is a new field for both my husband and I. We're a multi-fandom household: we love both Star Wars and Star Trek (and Star Gate, for that matter) and we have watched the original Star Wars trilogy with my older daughter, who finishes Kindergarten this week.
We've argued playfully over whether or not we will introduce the prequel trilogy… ever. She's a mature six, so she watches (slightly curated) episodes of Star Gate: SG-1 with her Dad. We watched Avatar: The Last Airbender at an early age, and are now working our way through Inuyasha and Yu-Gi-Oh!.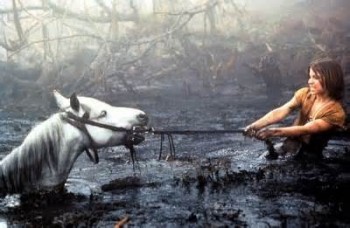 I tend more towards the Fantasy side of things myself, so we've had many a viewing of The Last Unicorn at our house. Big sis loves Labyrinth as well; little sis at four still finds it too scary. My husband suggested that we watch The Neverending Story, and I vetoed it. When asked why, I had only one thing to say:
"Artax."
"Oh, right. Yeah. We'll wait on that."
As the school year closes, the kindergartner has clicked on reading, and I am having a hard time holding back from burying her in the mountain of books I want her to read.
All of this is a very long introduction to something I want to spend more time talking about in this space: parenting while geeking. And writing while parenting. I know for a fact I'm not the only parent in here, but a lot of the time I feel like we keep these spheres separate, as if the literature we love and the kids we hope to raise are two different questions. They aren't, of course: I want to raise girls who love stories, and it's up to me to pick the kinds of stories they are exposed to. I want them to love tabletop gaming so we can play together as a family, when the time comes that just talking is difficult.
In short, being a geek is a big part of who I am, and so is being a mother. So let's talk about that. How does your love for fantasy and science fiction affect your parenting? What are the first movies and books you introduced your kids to, if you have them? And what's the hardest part of combining the two?