The Return of Dabir and Asim
The Return of Dabir and Asim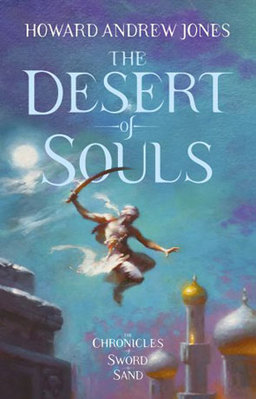 Howard Andrew Jones sent me a letter in the very early days of Black Gate. It was articulate and delightful, and I remember it well. He welcomed the magazine to the fold, speaking enthusiastically about our focus on classic adventure fantasy. He also included a story featuring two characters of his own creation, Dabir and Asim, sleuths and adventurers who strode the crowded streets and dark ways of ninth century Arabia, facing dark sorcery and ancient evils, armed only with their wits and cold steel.
Dabir and Asim had many adventures together. I bought two of those tales for Black Gate — "Sight of Vengeance" (BG 10), and "Whispers from the Stone," (BG 12) — and they became some of the most popular stories we ever published. Dabir and Asim appeared in two novels, The Desert of Souls and Bones of the Old Ones, one collection, The Waters of Eternity, and many other places (such as the awesome Kaiju Rising: Age of Monsters anthology), before Howard turned his talents to other worthy endeavors. But you can't keep great characters down for long, and on his blog yesterday Howard announced the return of Dabir and Asim in a brand new tale — and hinted at further adventures in the works.
For the first time this year I've sold a short story. I'm delighted to relay that the upcoming Skelos magazine will be carrying a never-before-published Dabir and Asim story in its second issue! You can see magazine details here and there is, briefly, still time to get in on its kickstarter.

I still fully plan to finish writing at least one more Dabir and Asim novel. If I can actually maintain the pace with this current set of drafts, I hope to find time to create a new Dabir and Asim every other year or so and market it as an e-book.
Welcome back, lads! You were missed.
Read our own coverage of the exciting launch of Skelos here, and Howard's complete announcement on his blog.