Dabir and Asim Return in Kaiju Rising: Age of Monsters
Dabir and Asim Return in Kaiju Rising: Age of Monsters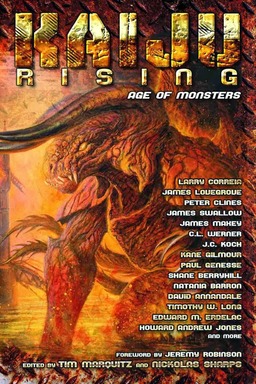 You want to know my three favorite things? (It's a rhetorical question; you don't actually have to email an answer. Seriously, don't.) Dabir, Asim, and Kaiju. Sometimes Kaiju is #2, 'cause Asim is occasionally kind of a lunkhead.
So how awesome would it be to have Howard Andrew Jones's Arabian adventurers Dabir and Asim in the same volume as some of the most diabolical Kaiju of the decade? (Again, rhetorical question. Stop e-mailing me stuff.) For the record, if would be thoroughly awesome.
Well, I think you can tell where this is going. Kaiju Rising, the Kickstarter-funded anthology we pulled the lid back on last September, has finally landed — and left a Godzilla-sized footprint on the industry. The Kickstarter campaign was a rousing success, raising $18,562 against a $10,0000 goal, and one of the unlocked stretch goals was a new Dabir and Asim story from the distinguished Mr. Jones. Here's what Howard had to say about his contribution:
Monsters turn up a lot in my fiction, and Kaiju style critters wandered across the stage in the first two Dabir and Asim novels. In true Ray Harryhausen fashion, The Bones of the Old Ones features a titanic battle between a Roc (the giant predatory bird of Arabian Nights fame) and a huge spirit wolf fashioned of snow and ice.

Given my interests, I naturally jumped at the chance to create a story for Kaiju Rising. In one or two of the Dabir and Asim stories I've referenced a deadly encounter the boys had on the ocean, and now I'm finally setting the tale down.
Howard's story is "The Serpent's Heart," and it appears alongside 22 other stories focused on the theme of gargantuan creatures in the vein of Pacific Rim, Godzilla, and Cloverfield. The authors include Larry Correia, James Lovegrove, Gini Koch (as J.C. Koch), James Maxey, C.L. Werner, Joshua Reynolds, Jaym Gates, Shane Berryhill, Natania Barron, Paul Genesse & Patrick Tracy, and many others. Howard's tale isn't the only one to draw on existing characters; Edward M. Erdelac's story is set in the world of the Dead West and James Swallow contributes a Colossal Kaiju Combat tie-in.
Kaiju Rising: Age of Monsters was published February 9, 2014 by Ragnarok Publications. It is a massive 493 pages, priced at $4.99 for the digital version. The print version is forthcoming; its price has not yet been announced.