Kaiju Rising
Kaiju Rising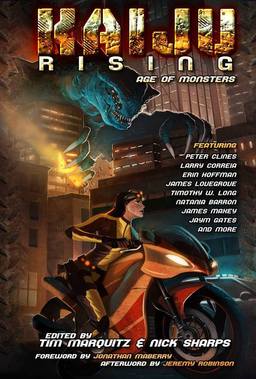 I'm going to let you in on a little secret – I'm not a fan of anthologies.
Shocking, I know, given that I am the creator of KAIJU RISING: Age of Monsters, an anthology inspired by such films as Pacific Rim, Godzilla, Cloverfield, Monsters, and more. Anyone familiar with my reviews on SF Signal or Elitist Book Reviews will likely recognize the refrain, "I'm not typically a fan of [insert genre], but…" and I find that it's applicable here.
I'm not a fan of anthologies, but perhaps that's because there aren't enough featuring giant monsters! After watching Pacific Rim in theaters for the third time, I had the desire to read stories that dealt with similar subject matter – and I wanted those stories to be written by my favorite authors.
It was something I wanted that, to my knowledge, didn't yet exist. I half-jokingly took the idea to Joe Martin, a friend of mine and the owner of Nine Worlds Media.
In previous interviews, I've mentioned that I wasn't entirely serious about creating an anthology, but I'd like to be completely clear on this matter – I never expected this idea to go so far. As I was talking to Joe about it, I even made a snarky Facebook post…
"Joe Martin and I are putting together a kaiju inspired anthology. Who's interested?"
The post devolved into a discussion about Evangelion and Attack on Titan between two of my friends, but it did catch the interest of Peter Rawlik, author of The Reanimators. I thought, if this random post could catch a legit author's notice, why couldn't we assemble such an anthology?
Of course, I have a notoriously short attention span when it comes to ideas – I think I cycle through about three a week. If it weren't for the persistence of Joe Martin, Kaiju Rising wouldn't have ever come into being. I had the idea, but Joe ran with it.
Unbeknownst to me, Joe and Tim Marquitz, editor of Fading Light: Anthology of the Monstrous and author of the Demon Squad series, were planning the formation of an indie publishing company – Ragnarok Publications.
With a seasoned editor onboard for a kaiju-themed anthology we began picking up momentum. Before I knew it, Joe and Tim had shanghaied me into bringing my brainchild to life.
In that time, we've learned quite a bit more about kaiju, to say the least. There was a whole kaiju-community prepared to welcome us, from Jeremy Robinson, author of the bestselling Project Nemesis, to Sunstone Games, developer of Colossal Kaiju Combat.
In two months' time, we have assembled nineteen authors (and four stretch goal authors) to write stories celebrating strange creatures. As of this moment, the KAIJU RISING: Age of Monsters Kickstarter is at 110% and rising. We have fifteen days left to hit our stretch goals, which include interior art and bonus stories – including a story from a licensed IP by a New York Times bestselling tie-in fiction author. We also have a legendary art goal set to be unlocked at $15,500 that will be a major homage to the kaiju genre.
Having read all the stories to be submitted so far, I can assure backers that they are in for a treat. Stories range from creepy to quirky, Weird Western to Lovecraftian. There is so much diversity in the talent on display that I can confidently promise that KAIJU RISING: Age of Monsters is one-of-a-kind. And if I sound a little too proud of what we've accomplished, surely that's just the hubris of a mad scientist about to unleash his monstrous creation on the world.
Nick Sharps is an Advertising/Public Relations Major at Point Park University in Pittsburgh, PA. He is a contributor to Hugo-Award winning SF Signal as well as the Hugo-nominated Elitist Book Reviews. His first published short story, "Toejam & Shrapnel" can be found within the pages of Manifesto UF from Angelic Knight Press.