Swords and Edgar Rice Burroughs
Swords and Edgar Rice Burroughs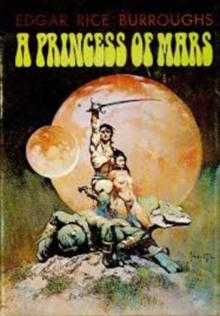 ERB is probably best known to people who enjoy Fantasy and SF as the creator of the John Carter of Mars series, the Carson of Venus books, and the Pellucidar world-in-the-centre-of-the-earth stories. Then, of course, there's Tarzan, probably second only to Dumas's Three Musketeers as a source of movies, TV shows, and comics.
Following up on my recent sword-fighting posts, I'd like to talk about two ERB novels that are much less well-known than the ones I refer to above, and yet which have the same spirit of adventure and, for me almost more important, the same emphasis on sword play.
Both The Outlaw of Torn (1914) and The Mad King (1915) are what used to be called "romantic adventures." This wasn't because there was a love interest (though everyone familiar with ERB's work knows there was), but because of the extraordinary demands placed on the hero, usually for extreme action, courage, fortitude, and sacrifice.
The Indiana Jones films are probably the closest deliberate modern equivalent to this genre, and while it's hard for us to think of Iron Man, or Spiderman, as romantic adventurers, in the way the term was understood back then, that's exactly what they would be.
The Outlaw of Torn is one of ERB's rare historical novels and tells us the story of a prince and ruler of England lost to the history books. Because of an unforgiveable insult, the French fencing master of Henry III kidnaps Henry's young son, Richard, and turns him into Norman of Torn, a deadly highwayman and sworn enemy of the king.
There could be a nice little study of nature-vs-nurture going on in the book, as Richard/Norman's noble nature consistently wins out over his training as an evil captain of thieves. In fact, he's not very evil at all, being more of a Robin Hood type of highwayman than an ordinary thief and assassin.
Not that he doesn't kill people, he does, but they are usually people who thoroughly deserve it. A consummate swordsman, Richard/Norman is known for marking his opponents by cutting his initials, NT, on their foreheads as they fight. And for those of us who might wonder where that idea came from, Zorro wasn't written until 1919. If anything, the source material for this book is The Man in the Iron Mask.
The characters are as interesting and as well drawn as any found in historical novels. The action scenes and suspense are particularly good, but the book falls down in the dialogue area. ERB's rendering of fake medieval English is possibly the worst I've ever come across. I don't remember being so distracted by it when I read the book (several times) as a child, but it detracts very much now.
On the other hand, if people ever get tired of remaking the Musketeers' films, they could do worse than The Outlaw of Torn.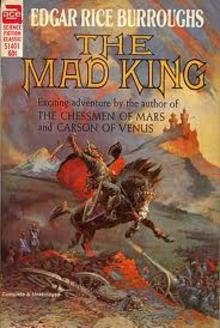 The Mad King is by far the better of these two novels, even though the source material is a little more obvious. Barney Custer, a young and adventurous American, is visiting his mother's middle-European homeland on the eve of the first World War. He's almost immediately mistaken for the Leopold, the King of Lutha, who has been kept prisoner since childhood by his evil uncle, Prince Peter.
Barney is compelled to allow this mistake to stand, both for his own protection and the salvation of the country itself – to say nothing of the Princess Emma van der Tann, the betrothed of the real king.
For those of us for whom this general plot sounds familiar, yes, the  Prisoner of Zenda was published in 1894. As in Heinlein's Glory Road, rational explanations are given for Barney's proficiency with a sword – not that this would have been as unusual in 1915 as it would be today.
The plot is nicely complicated, and if the characters are a bit two-dimensional, again, that's not unusual for the time period. There's quite a bit more humour in this book and a greater sense of fun than perhaps is found in any other ERB work. This sense of fun is really the only thing that distinguishes Barney from other ERB heroes. He even refers to Emma as "my princess," a familiar phrase for readers of the Mars books.
If you can get past the dialogue problem in Outlaw, both of these books are a lot of fun – especially for fans of ERB who haven't come across them yet. Oh yeah, and there's all that sword fighting.
---
Violette Malan is the author of the Dhulyn and Parno series of sword and sorcery adventures, as well as the Mirror Lands series of primary world fantasies. As VM Escalada, she writes the soon-to-be released Halls of Law series. Visit her website www.violettemalan.com.