Get an Inside Look at the Hottest Boardgames with Meeple Monthly
Get an Inside Look at the Hottest Boardgames with Meeple Monthly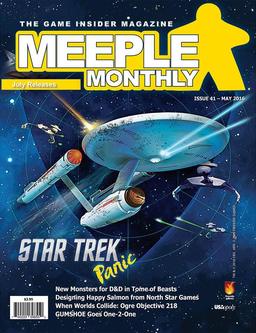 If you hang out in game stores (and who doesn't?) you've doubtless seen copies of GTM, Game Trade Magazine, a monthly industry mag for the Adventure Hobby industry that also doubles as a handy catalog for Alliance Game Distributors. GTM is always a pleasant read, with fun articles and full color pics of upcoming RPGs and card games. While I was browsing the magazine rack at my local game store last month, I came across something called Meeple Monthly, and at first couldn't believe my eyes. It looked like GTM, except for board games… a full color magazine devoted to the very latest releases, with full color throughout, chatty articles, a nice assortment of ads, and enthusiasm for the industry dripping off every page. And that's exactly what it was.
Ah, what a marvelous world we live in. An inexpensive color magazine devoted to new board games? Yes please! I snatched up that issue and brought it home, and I've bought every one I could find since. The May issue, featuring a cover feature on Fireside Games and USAopoly's Star Trek Panic, covers games shipping in July. It also contains:
An inside look at Happy Salmon from North Star Games
A sneak peak at 400 new monsters for Dungeons and Dragons Ancient Bestiaries in Tome of Beasts, from Kobold Press
Wade Rockett's preview of the excellent artwork in Tome of Beasts
Robin Laws' inside look at Gumshoe going One-2-One in Cthulhu Confidential, from Pelgrane Press
The Battle for Hill 218 comes to the Ogre Universe in Ogre: Objective 218, the newest from Steve Jackson Games
All that plus over a dozen pages cataloging every upcoming board game, from all the major publishers, all in full color. What's not to love?
Meeple Monthly is edited by Jenna Piller and published by ACD Distribution. It is 48 pages, full color, priced at just $3.95. See more details — including news on the upcoming June issue — at their Facebook page.