Stephanie Burgis on Scandals in Regency England, Magickal Bathwater, and an Illness That Is No Laughing Matter
Stephanie Burgis on Scandals in Regency England, Magickal Bathwater, and an Illness That Is No Laughing Matter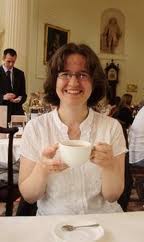 Stephanie Burgis got her first short story published when she was fifteen, and hasn't stopped since.
Now the author of over thirty published short stories and the Regency fantasy novel trilogy The Unladylike Adventures of Kat Stephenson (Atheneum – US, Templar – UK), she makes her home in Wales with her husband, Patrick Samphire (also a writer).
I had the opportunity to sit down with her and ask about her research process for her novels, the path she's taken in her career, and on a more personal note, her life with Chronic Fatigue Syndrome.
Stephanie and I also collaborated on some jewelry pieces I designed to tie in with her novel trilogy, and here we also share the story behind those pieces and the various hurdles we had to overcome to get them into production.
Interview with Stephanie Burgis
Conducted May, 2013, by Emily Mah
Emily Mah interviews Stephanie Burgis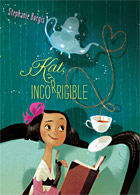 Click the link above to hear the interview, which runs just over forty-five minutes. First we discuss Stephanie's novels and how she researched Regency England. Then we discuss her short story career and how she was able to then get an agent and sell a novel series, before we go on to discuss the jewelry I designed to tie in with her novels.
For the last segment of the interview, we discuss Chronic Fatigue Syndrome, her diagnosis and how it has changed her life. I admire Stephanie for being open about her condition, as this is an illness that many people remain skeptical of. Thanks to people like Stephanie, I hope more people will come to realize that it, and conditions like it, are very real disabilities, but that disabilities don't need to prevent anyone achieving their dreams.
-Emily Mah