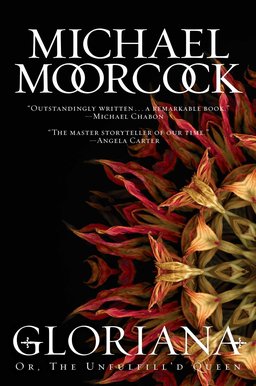 Michael Moorcock is best known today for his ambitious Eternal Champion story arc, which includes the sword & sorcery classic Elric of Melnibone, the Hawkmoon novels, the Chronicles of Corum, the Von Bek novels… and man, a whole lot more. Seriously, if you want to dive in, there's a whole lot of reading ahead of you. The Wikipedia page, which lists roughly a billion novels and short stories in the seres, will get you started.
But some of Moorcock's most acclaimed fantasies were standalone works — including the World Fantasy Award and John W. Campbell Award winner Gloriana: Or, The Unfulfill'd Queen, which first appeared nearly 40 years ago. The tale of a beautiful but sexually frustrated queen who finds herself drawn into deadly court intrigue, Gloriana has been reprinted over a dozen times, and at the end of the month Saga Press returns it to print again in a handsome new hardcover description. Here's the description.
In this "spellbinding" (The Sunday Times) award-winning fantasy, the vast empire of Albion is ruled by the beautiful and forlorn queen, Gloriana who must battle against a nefarious scoundrel, Captain Quire, and a court soured by debauchery with her wits.

First published in 1978, Gloriana is the award-winning story set in the alternate English kingdom of Albion that reimagines Queen Elizabeth's reign.

Bawdy, cruel, and brilliant, Gloriana has been awarded the World Fantasy Award and the John W. Campbell Memorial Award for Best Science Fiction, and is often cited as one of the great works of speculative fiction and fantasy along the lines of J.G. Ballard, Thomas Pynchon, and Philip K. Dick.
Gloriana has previously been published in the US by Avon Books, Questar, Warner Aspect, and the Science Fiction Book Club, and in the UK by Fontana, Gollancz Fantasy Masterworks, Gateway/Orion, and others. I've collected half a dozen examples below, with a gorgeous sampling of cover art — including the 1986 Flamingo edition, one of the rare examples of full frontal nudity I've ever seen on a mass market fantasy cover.
---