Last Chance to Win a Copy of Sarah Avery's The Imlen Brat
Last Chance to Win a Copy of Sarah Avery's The Imlen Brat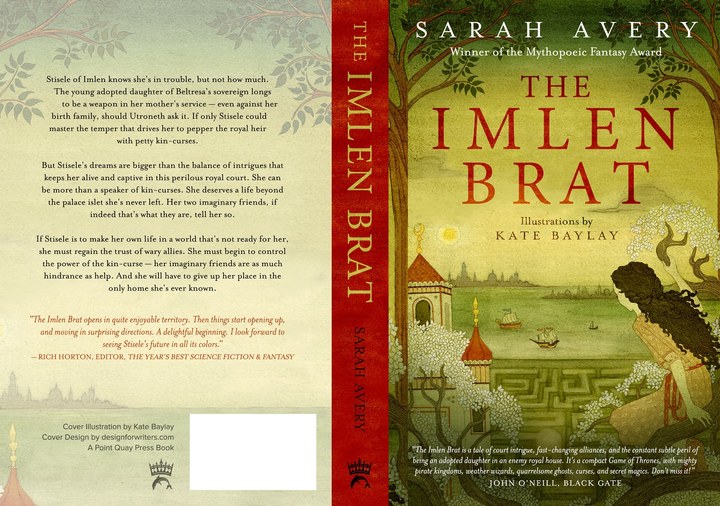 Ten days ago we announced a contest to give away two copies of Sarah Avery's new book The Imlet Brat. Sarah has been a blogger at Black Gate since the days when our server was a coal-powered gear box in Howard Andrew Jones' barn, and we were writing breathless articles about hot new writers Robert E. Howard and H.P. Lovecraft. Sarah is also the author of "The War of the Wheat Berry Year" (from BG 15) and the acclaimed novella collection Tales from Rugosa Coven, which won the Mythopoeic Award in 2015.
There's still an opportunity to win one of these beautiful books, but time is running out. To enter, just send an e-mail to john@blackgate.com with the subject "The Imlen Brat," and a one-sentence review of your favorite fantasy novella.[In honor of Sarah's legacy as one of our most popular writers, we'll also gladly accept a one-sentence review of your favorite story from Black Gate magazine — including any of the tales in our Black Gate Online Fiction library.]
That's all it takes! Two winners will be drawn at random from all qualifying entries, and we'll reprint the winning entries when we announce the winners. All entries become the property of New Epoch Press. No purchase necessary. Must be 12 or older. Decisions of the judges (capricious as they may be) are final. Not valid where prohibited by law, or anywhere postage for a trade paperback is more than, like, 10 bucks. Eat your vegetables.
The Imlen Brat was published by Point Quay Press on October 30, 2016. It is 70 pages, priced at $9.99 in trade paperback and $2.99 for the digital edition. The cover is by Kate Baylay. Copies are available at Amazon and other fine outlets. See more details here.