Weirdbook 33 Now Available
Weirdbook 33 Now Available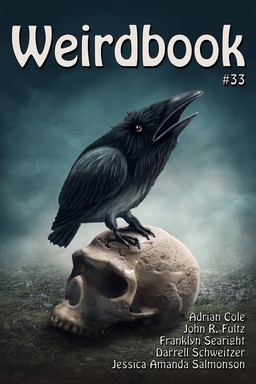 I was very pleased to finally get my hands on a copy of Weirdbook 33 this week, the third issue of the newly re-launched weird fantasy magazine. It follows issue #32 by just four months, which is lightning fast in the world of small press magazines.
While the last issue contained 25 short stories, this time editor Doug Draa mixes it up a little with a focus on longer fiction. Here's an excerpt from his editorial.
This issue is going somewhat against the norm in that there are only 9 pieces of long fiction, a single flash piece, from the esteemed James Aquilone, and our talented rouges gallery of poets this time around. The nine stories are all of novelette or novella length.

I was tempted to call this our "Super-duper Occult Detective Halloween Spooktacular," but feared that that would have been overdoing things a wee bit. To be honest, it's purely coincidental but this issue contains 3 detective pieces. One of them is a new "Nick Nightmare" story from British Fantasy Award winner Adrian Cole, another one is from rising star John R. Fultz, and the third is a tale of shamanistic detection set in the true north strong and free by the extremely talented Bruno Lombard.

This issue also sees the return of two genuine masters to the pages of Weirdbook. A powerful, erotic dark fantasy by Jessica Amanda Salmonson and a wonderfully pulpy adventure from the pen of Franklyn Searight himself.
This issue is even larger than the last one, clocking in at an impressive 178 pages. Here's the complete table of contents.
Fiction
"The River Flows To Nowhere" by John R. Fultz
"The Amnesiac's Lament" by Scott R Jones
"Trance Junkie" By Bruno Lombardi
"Bad Faith" by Will Blinn
"Dwelling of the Wolf" by Franklyn Searight
"The Ruby Palace" by Jessica Amanda Salmonson
"The Screams at the Keyhole" by Garrett Cook
"Diary of an Illness" by C. M. Muller
"Teatime with Mrs. Monster" by James Aquilone
"Train to Nowhere" by Adrian Cole
Poetry & Prose
A Cure for Unrequited Love by Donald W. Schank
The Owl by S. L. Edwards
Bathory in Red by Ashley Dioses
Blood Siren's Alcove by Ashley Dioses
The Woodland funeral by K.A. Opperman
The Lady in Scarlet by K.A. Opperman
The Ghost Carriage by K. A. Opperman
Hymn to Shub-Niggurath by Darrell Schweitzer
NOCTUARY OF SFATLICLLP by Frederick J. Mayer
SFATLICLLP'S GHOUL by Frederick J. Mayer
NILE LAMIA RECALLS by Frederick J. Mayer
Weirdbook is published by Wildside Press, and edited by Douglas Draa. Issues are 170+ pages, and priced $12 for the print edition, and $3.99 for the digital version. Subscriptions are currently not available, but you can buy individual issues at Amazon.com and Wildside Press.
The cover this issue is by Elena Schweitzer.
We last covered Weirdbook with issue #32. The magazine's website is here.
Our November Fantasy Magazine Rack is here. See all of our recent fantasy magazine coverage here.