Future Treasures: The Rising by Ian Tregillis
Future Treasures: The Rising by Ian Tregillis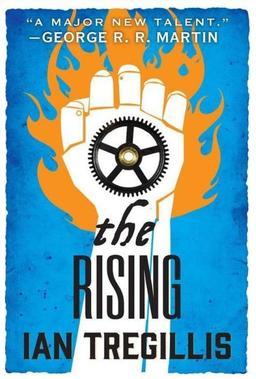 Ian Tregillis is the author of the Milkweed alternate history trilogy for Tor (Bitter Seeds, The Coldest War, and Necessary Evil), and Something More Than Night, a murder mystery set in heaven. Emily Mah interviewed him for us in 2012.
His latest fantasy series is The Alchemy Wars trilogy, an epic tale of liberation and war. The first novel, The Mechanical, was released in March; Publishers Weekly called it "Superb alternate history filled with clockwork men and ethical questions on the nature of free will… rich characters and gripping story really make this tale soar," and it was cited by Flavorwire as one of the 10 Best Sci-Fi and Fantasy Novels of 2015 (So Far). The second, The Rising, will be released early next month.
Jax, a rogue Clakker, has wreaked havoc upon the Clockmakers' Guild by destroying the Grand Forge. Reborn in the flames, he must begin his life as a free Clakker, but liberation proves its own burden.

Berenice, formerly the legendary spymaster of New France, mastermind behind her nation's attempts to undermine the Dutch Hegemony — has been banished from her homeland and captured by the Clockmakers Guild's draconian secret police force.

Meanwhile, Captain Hugo Longchamp is faced with rallying the beleaguered and untested defenders of Marseilles-in-the-West for the inevitable onslaught from the Brasswork Throne and its army of mechanical soldiers.
The Rising will be published by Orbit Books on December 1, 2015. It is 480 pages, priced at $16.99 in trade paperback and $9.99 for the digital edition.