Flavorwire on the 10 Best Sci-Fi and Fantasy Novels of 2015 (So Far)
Flavorwire on the 10 Best Sci-Fi and Fantasy Novels of 2015 (So Far)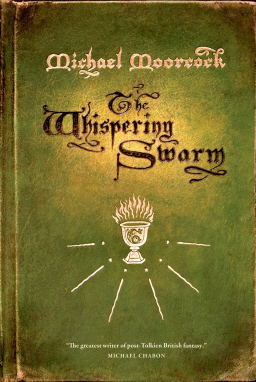 We're barely halfway through the year, but I suppose that's far enough to start arguing over Ten Best lists. Yesterday Jonathon Sturgeon at Flavorwire kicked it off with a list of The 10 Best Sci-Fi and Fantasy Novels of 2015 So Far, a list that includes Michael Moorcock, Neal Stephenson, Kim Stanley Robinson, Ian Tregillis, and Nicole Kornher-Stace. Here's Jonathon on Michael Moorcock's latest, The Whispering Swarm:
Moorcock is among the most influential of all genre writers, and he returns here with his first novel in nine years — and readers will be happy to learn that it launches a trilogy. Even though much of this first installment is given over to scene setting — it takes place in a hidden London enclave where historical figures mix with literary creations — it's still a pleasure to read. Also, it may well inaugurate the autofictional fantasy subgenre.
He also has high praise for new writer Nicole Kornher-Stace, who thrilled me with a reading from Archivist Wasp at the World Fantasy Convention:
More than a little drunk on Greek mythology, Kornher-Stace's Archivist Wasp tells the story of an "archivist" and ghost-hunter who learns to communicate with the specter of a supersoldier and (in the process) unlearns what she knows about her own horrorscape of a world. Smart, risk-taking, and weird as hell.
See the complete list here.