Art of the Genre: Looking Back at Old Readings with Neil and Fritz Leiber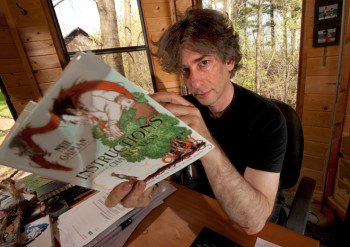 Neil Gaiman and I have a strange relationship, that being that we have no relationship whatsoever. That said, I take full responsibility for our lack of communication as the first time I turned my nose up at speaking privately with Neil was back in 1993 at the Diamond Comic Distributors convention in Atlanta.
So there I was, two floors above the off-entry lounge and looking over a railing when Neil, in his usual black, walked into the empty square couches all alone, kicked up his feet, and just sat there for a full twenty minutes without a soul coming to disturb him. Sure, I could have gone to the elevator behind me, traveled down and taken a seat, asking Neil how it felt to have Tori Amos sing about hanging out with him and the Dream King on her Little Earthquakes album, but no, I just wasn't that into doing so. [Perhaps the most intriguing part of this tale is that I timed his small respite from the convention crowds on my wristwatch, and neither he nor I had the use of a smartphone to keep our attention… ah, what a massively different world we once lived in!]
Fast forward to San Diego and the 2011 World Fantasy Convention. Again, fate would put me in Neil's path, this time after he'd given a secondary non-sanctioned signing session when the convention had forced him to close his first one because it went too long. Between restaurants, Neil took a moment amid the palm fronds to collect himself as the convention broke down and people said goodbye around his private island unaware. Me, having said farewell to my Black Gate crew, witnessed this act of peaceful contemplation and decided yet again that Neil and I just weren't in the right place for a confab.