Journey to The Serpent Sea
Journey to The Serpent Sea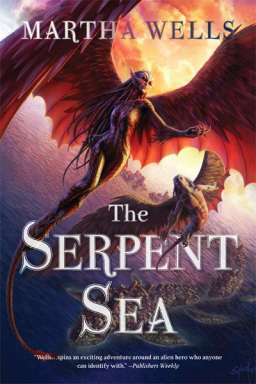 Martha Wells' tales of Gilead and Ilias have been some of the most popular stories we've published in Black Gate. Her opening novel in the Books of the Raksura series, The Cloud Roads (Night Shade Books, March 2011) won her a new legion of fans, and this month the second installment finally arrives.
The Serpent Sea is already getting a lot of great press as a major new fantasy novel. Here's Keith West over on Adventures Fantastic:
There was a time, more in science fiction than in fantasy, where authors created detailed worlds or universes, such as Known Space (and especially Ringworld), Dune, or more recently Karl Schroeder's Virga, places unique and filled with that sense of wonder that seems to be missing from so much of contemporary fantastic literature. The Cloud Road and The Serpent Sea are brim full of sense of wonder…  With these books Wells is writing at the top of her game, and given their breath, originality, and complexity, this series is showing indications it could become one of the landmark series of the genre.
When I asked her to describe the series, here's what Martha shared with us:
The Cloud Roads is a fantasy adventure novel about dragon-like shapeshifters who can fly, but it's also about searching for a place to belong. When the main character does find his own people, his difficulties don't end.

The sequel, The Serpent Sea, is about finally finding the place you were meant to be, but realizing that it's going to take a lot of work to finally belong there. If you can survive long enough.
You can try a sample chapter of The Cloud Roads here, and The Serpent Sea here. Don't wait to check out one of the most exciting new fantasy series of the last few years.