Black Gate Online Fiction Presents the Complete The Death of the Necromancer by Martha Wells
Black Gate Online Fiction Presents the Complete The Death of the Necromancer by Martha Wells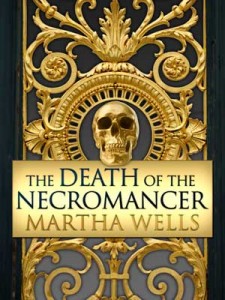 Black Gate is very proud to announce that we will be presenting the complete fantasy novel The Death of the Necromancer, by Martha Wells, as part of our Online Fiction series, starting this Sunday, June 2.
The Death of the Necromancer is one of the most important fantasy novels of the past 20 years. When I ran SF Site, we received an advance proof in 1998, and it electrified our entire office. In his review, senior editor Wayne MacLaurin wrote:
Take a great Sherlock Holmes novel, mix in a heavy dose of Steven Brust's Jhereg, and you'll have some idea of what you can expect… Martha Wells' first two novels, The Element of Fire and City of Bones, were praised for their rich detail and original concepts. The Death of the Necromancer raises those two points to new levels… It's a stunning achievement.
When we polled all 40 regular reviewers for our "Best of the Year" awards, The Death of the Necromancer topped more ballots than any other book, and to no one's surprise it was nominated for a Nebula Award.
Martha Wells has a long history with Black Gate. We published three long novellas featuring her heroes Giliead & Ilias, starting with "Reflections" in Black Gate 10; followed by "Holy Places" (BG 11), and "Houses of the Dead" (BG 12). Her stories are fast-paced mysteries, filled with deeply human characters on a splendidly realized stage, and her appearance in BG brought us a whole new audience. Her most recent article for us was "How Well Does The Cloud Roads Fit as Sword and Sorcery?," which appeared here March 13.
Martha Wells is the author of fourteen fantasy novels, including City of Bones, The Element of Fire, The Cloud Roads, and The Serpent Sea. Her most recent novel is the YA fantasy Emilie and the Hollow World, published by Strange Chemistry Books in April. Her web site is www.marthawells.com.
The Death of the Necromancer was originally published in hardcover by Avon EOS in 1998. The complete, unedited text will be serialized as part of our Black Gate Online Fiction line, starting this Sunday, June 2.