Charlene Brusso Reviews The Cloud Roads
Charlene Brusso Reviews The Cloud Roads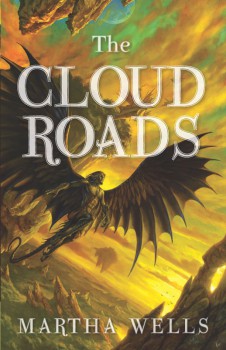 The Cloud Roads
Martha Wells
Night Shade Books (300 pp, $14.99, February 2011)
Reviewed by Charlene Brusso
I always look forward to reading anything by Martha Wells, because she always gives me something marvelous and new–and The Cloud Roads doesn't disappoint.
Moon is an outsider. He's drifted all over, living with one tribe or clan or family after another, and never met another soul like himself. Because Moon has a secret: he's a shapeshifter. With a little concentration he can alter his body from something that appears human and "normal" to a scaly humanoid with big dragon-like wings and sharp, retractable claws. Orphaned as a child, he's been on his own ever since, never quite fitting in, and never staying long. It's not safe to stay, because if anyone found out what he was, what he could become, they'd be certain to think he was one of the vile, noisome Fell, creatures from nightmares who live to hunt and consume humankind.
Moon isn't Fell. Hes' not sure what he is. And Moon doesn't want to be alone. That's just how things are.
Then he meets another shapeshifter: Stone, someone like himself. From Stone, Moon learns about the Raksura, who shift between groundling and dragonish shapes and live in courts run by Queens. There's a long list of hierarchical rules to learn, but Moon is welcome to come back with Stone to Indigo Cloud Court and become one of its warriors. More than welcome, in fact.
Just how welcome becomes clear upon their arrival. Queens hold the court together, and for various reason–mostly bad luck–Indigo Cloud only has two Qqueens left: Pearl, the elder and currently in change, and young Jade, with whom she doesn't often see eye-to-eye. The Court is desperate for new blood, and Moon learns, no matter how good his fighting skills, what he really is, a consort. Only consorts are fertile, mating with the Queen to provide the offspring that are the lifeblood of the whole court. With Indigo Cloud fallen on hard times and no other courts around (the last one anywhere close was destroyed by the Fell), Moon is their chance to stay alive.
Pearl isn't pleased with Moon's arrival. Jade is now old enough to run things as soon as she has a proper consort, but Pearl isn't willing to step aside either. And Pearl has no interest in a "solitary" like Moon, "feral", who probably comes with poor bloodlines to boot.
The court has been approached by some Fell who want to join them. Legend says they're of the same stock, from long ago. This Fell band is equally destitute when it comes to offspring, and they claim an alliance will help both groups. Naturally this isn't a popular notion with Jade's supporters. But they have so few warriors left, there aren't enough to protect the court if it were to move away from the Fell to safety.
No matter how much Indigo Cloud needs a consort, Moon can't bring himself to just settle in. He wants to help the court survive, but he's been screwed before by people he thought he could trust. He's happy to help, but wary of any more than that. Especially when the Fell are involved. Fortunately Moon's traveled and knows a way they might move the Court safely. Unfortunately, the Fell are equally desperate to stop them.
Wells's world-building skills have always been strong, and things are no different here. The characters are vividly drawn, each culture and its beliefs distinct and convincing. She deftly blends high adventure with court intrigue, in a brisk plot that hinges on delicately balanced trust, and dark layers of secrets and lies, any of which can turn the world inside out in an instant. This is one fast and fascinating read.
__________
Charlene Brusso is a science fiction & fantasy author and science writer. She also reviews science and genre fiction for several venues, from Ad Astra and Black Gate to the NY Journal of Books and the SF Site.