Black Gate Online Fiction: The Death of the Necromancer, Part Two
Black Gate Online Fiction: The Death of the Necromancer, Part Two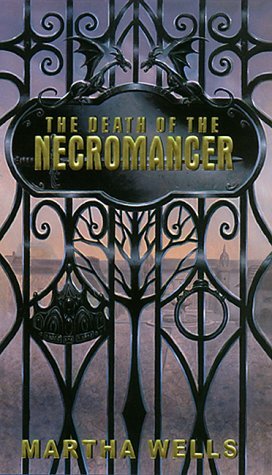 Black Gate is very proud to present Part Two of Martha Wells's Nebula Award-nominated novel, The Death of the Necromancer, presented complete online for the first time.
Nicholas Valiarde is a man of several parts, or roles. One is that of disenfranchised nobleman, bent on revenge for the execution of his godfather, Edouard Viller, who was falsely accused of the capital offense of necromancy by the scheming Count Montesq. Another is that of the master thief Donatien, legendary criminal of Ile-Rien. These two roles collide when Nicholas encounters ghouls and a sorcerer known as Doctor Octave in the cellars of a duchess's house while carrying out a robbery.

Sinister forces are at work in Ile-Rien. Citizens have gone missing, corpses have turned up vivisected, bones have washed up in the sewer gates. All the evidence points to a necromancer at work, very probably someone with access to the books of the infamous Constant Macob, believed dead for over 200 years. As he investigates, Nicholas and his misfit friends uncover a plot that leads them into a series of escalating confrontations with the evil creations of Macob, as the necromancer schemes to gather enough power to return to life…
Martha Wells is the author of fourteen fantasy novels, including City of Bones, The Element of Fire, The Cloud Roads, and The Serpent Sea. Her most recent novel is the YA fantasy, Emilie and the Hollow World, published by Strange Chemistry Books in April. Her previous fiction for us includes "Reflections" in Black Gate 10, "Holy Places" (BG 11), and "Houses of the Dead" (BG 12). Her most recent article for us was "How Well Does The Cloud Roads Fit as Sword and Sorcery?," which appeared here March 13. Her web site is www.marthawells.com.
The complete catalog of Black Gate Online Fiction, including stories by Mary Catelli, Michael Penkas, Vera Nazarian, Ryan Harvey, Nina Kiriki Hoffman, E.E. Knight, C.S.E. Cooney, Howard Andrew Jones, Harry Connolly, and many others, is here.
The Death of the Necromancer was originally published in hardcover by Avon EOS in 1998. The complete, unedited text will be presented here over the next four weeks, beginning last week with the first four chapters here.
Part Two includes Chapters Five through Eight. It is offered at no cost.
Read Part Two of the complete novel here.