Charlene Brusso Reviews The Cloud Roads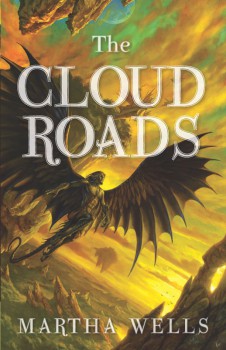 The Cloud Roads
Martha Wells
Night Shade Books (300 pp, $14.99, February 2011)
Reviewed by Charlene Brusso
I always look forward to reading anything by Martha Wells, because she always gives me something marvelous and new–and The Cloud Roads doesn't disappoint.
Moon is an outsider. He's drifted all over, living with one tribe or clan or family after another, and never met another soul like himself. Because Moon has a secret: he's a shapeshifter. With a little concentration he can alter his body from something that appears human and "normal" to a scaly humanoid with big dragon-like wings and sharp, retractable claws. Orphaned as a child, he's been on his own ever since, never quite fitting in, and never staying long. It's not safe to stay, because if anyone found out what he was, what he could become, they'd be certain to think he was one of the vile, noisome Fell, creatures from nightmares who live to hunt and consume humankind.
Moon isn't Fell. Hes' not sure what he is. And Moon doesn't want to be alone. That's just how things are.
Then he meets another shapeshifter: Stone, someone like himself. From Stone, Moon learns about the Raksura, who shift between groundling and dragonish shapes and live in courts run by Queens. There's a long list of hierarchical rules to learn, but Moon is welcome to come back with Stone to Indigo Cloud Court and become one of its warriors. More than welcome, in fact.