Black Gate Online Fiction: The Death of the Necromancer, Part One
Black Gate Online Fiction: The Death of the Necromancer, Part One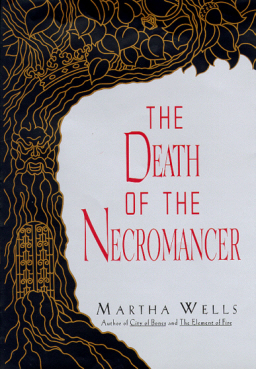 Black Gate is very proud to present Part One of Martha Wells's Nebula Award-nominated novel The Death of the Necromancer, presented online in its complete form for the first time.
Nicholas Valiarde is a passionate, embittered nobleman with an enigmatic past. Consumed by thoughts of vengeance, he is consoled only by thoughts of the beautiful, dangerous Madeline. He is also the greatest thief in all of Ile-Rien…

On the gas light streets of the city, he assumes the guise of a master criminal, stealing jewels from wealthy nobles to finance his quest for vengeance the murder of Count Montesq. Montesq orchestrated the wrongful execution of Nicholas's beloved godfather on false charges of necromancy — the art of divination through communion with spirits of the dead–a practice long outlawed in the kingdom of Ile-Rein.

But now Nicholas's murderous mission is being interrupted by a series of eerie, unexplainable, even fatal events. Someone with tremendous magical powers is opposing him. Children vanish, corpses assume the visage of real people, mortal spells are cast, and traces of necromantic power that hasn't been used for centuries are found. And when a spiritualist unwittingly leads Nicholas to a decrepit mansion, the monstrous nature of his peril finally emerges in harrowing detail.Nicholas and his compatriots must destroy an ancient and awesome evil. even the help of Ile-Rien's greatest sorcerer may not be enough, for Nicholas faces a woefully mismatched battle — and unthinkable horrors await the loser.
Martha Wells is the author of fourteen fantasy novels, including City of Bones, The Element of Fire, The Cloud Roads, and The Serpent Sea. Her most recent novel is the YA fantasy Emilie and the Hollow World, published by Strange Chemistry Books in April. Her previous fiction for us includes "Reflections" in Black Gate 10, "Holy Places" (BG 11), and "Houses of the Dead" (BG 12). Her most recent article for us was "How Well Does The Cloud Roads Fit as Sword and Sorcery?," which appeared here March 13. Her web site is www.marthawells.com.
The complete catalog of Black Gate Online Fiction, including stories by Mary Catelli, Michael Penkas, Vera Nazarian, Ryan Harvey, Nina Kiriki Hoffman, E.E. Knight, C.S.E. Cooney, Howard Andrew Jones, Harry Connolly, and many others, is here.
The Death of the Necromancer was originally published in hardcover by Avon EOS in 1998. The complete, unedited text will be presented here over the next four weeks, beginning tonight with the first four chapters. It is offered at no cost.
Read Part One of the complete novel here.